Summer Semester 2000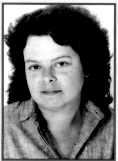 Jamaican writer and professor Michelle Cliff taught two classes (The Literatures of Colonialism: Past and Post and No Outward Edge: Writers of the Caribbean) and gave several readings as the Center's first guest professor from April 10 to May 19, 2000.
The celebrated author, historian and literary critic was born in Jamaica and educated in the U.S. and Britain. Both her academic work and her poetry, novels and short stories examine the history of colonialism and slavery, the connections between people of African heritage in the diaspora, and the resistance to racism, with special attention to women's histories.
Cliff also participated in the international conference on Transitional Identities - Identites Transitoires, which took place in Mainz from April 27 to 30 as part of the Center's project "Hybridization and Postcolonial Migration Between the Caribbean and Colonial Metropolis".