Winter Semester 2021/22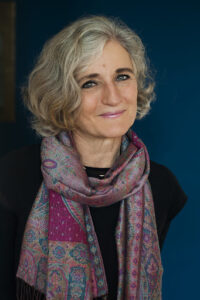 Prof. Dr. Shulamit Bruckstein
---
Lecture on October 28th, 2021, 5pm
Wie bauen wir ein Haus aus Nichts. Die Orangerei als Kleine Mnemosyne.
---
Prof. Dr. Shulamit Bruckstein is the founder of the Taswir Project, international curator, cultural theorist, art critic and author.
Ha'atelier / Taswir Projects is an international platform for the renaissance of cosmopolitan Jewish and Islamic traditions; a platform for artistic research and diasporic forms of thinking that deals with the dynamics of post-colonial criticism by means of various formats such as exhibitions, publications, image films, research dossiers in public art magazines. Taswir Projects combines contemporary discourses on phenomenology, visual cultural studies, psychoanalysis and gender studies with classical literatures of antiquity such as the Talmud, literatures of the Kalam and more. The artistic research of Taswir Projects and their wide network, which extends to Istanbul, Beirut, Jerusalem, Baghdad and Tehran, consists in the continuous connection of contemporary and premodern (ancient) materials, images, texts, poetry, theories.
During her fellowship stay, Bruckstein will move into the Orangerei, an action and exhibition space at the Kunsthochschule Mainz, and open a research laboratory there. With the move of the House of Taswir into the Orangerei, it becomes a public, performative house of learning and thinking space.
An opening workshop to present the project and its methods will take place in October 2021. In addition, together with the hosts Prof. Parastou Forouhar and Prof. Dr. Linda Hentschel of the Kunsthochschule Mainz, it is intended to document the process visually and to transform it into an object-like performance / exhibition / conference as well as to include the plans for further future joint projects. In terms of documentation, there are also plans to produce a magazine that will be available in museums and galleries. The hosts have been leading the Forum Transkulturalisieren at the Kunsthochschule Mainz since 2019, an experimental platform for criticism of Eurocentrism and artistic-theoretical interventions in post-colonial contexts, which also connects artistic forms of expression with concepts of cultural theory.
Bruckstein has already held numerous visiting professorships in Hamburg, Philadelphia, Jerusalem, Berlin and Istanbul, but in recent years has concentrated on artistic-practical, curatorial work and the authorship of corresponding publications.
---
Her most recent projects are:
2021
Author and Editor (ctd), Wednesday Society Dossier I-IV, edited by House of Taswir in collaboration with Art Unlimited Istanbul. With authors A.S. Bruckstein Çoruh, Julia Gyemant, Özgür Öğütcen, Ceren Korulsan, Simone-Weill Denk-Kollektiv, and artists Rebecca Horn, Ali Kaaf, Rebecca Raue,Shaqayeq Ahmadian, Thomas Hirschhorn, a.o.
Audio-Performance, Audio-Performance "Salon der Leerstellen. Die Gespräche" Podcast Series from Meine Kleine Mnemosyne, WDR, June 2021.
Author and Performance, "How (not) to speak shadows. For Walid Raad." Performance Lecture at Kunst-Station St. Peter, Cologne. Forthcoming in Art Unlimited Istanbul, September 2021.
Author, "The Talmudic War Machine. A Shadow's Dream." Forthcoming in Protocols no. 8, Los Angelos, June 2021.