Summer Semester 2007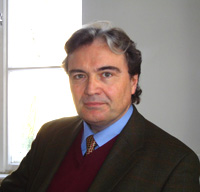 Prof. Dr. Rüdiger Görner is an internationally known cultural studies and literary studies scholar.
His work on cosmopolitanism and orientalism, among other publications, has made him a familiar name in cultural studies; in 2005, he became a founding director of the Centre for Anglo-German Cultural Relations at Queen Mary College, University of London. During his period as Visiting Professor at Mainz University, he lectured in particular on the complex engagements of British-German relations from the early nineteenth century to the present.
Lectures
Roundabout or Intersection: On a Phenomenology of British-German Cultural Relations since 1900
British-German Cultural Relations I:
Towards a Psychopathology of Anglophilia and Germanophobia
June 2007
British-German Cultural Relations II:
Maidens of the Rhine on the Thames, or, The Significance of G.B. Shaw's Wagner Reviews
June 2007
British-German Cultural Relations III:
Modes of Thinking and Writing: Internal Monologues – Observed from Without
July 2007
Anglophilia and Germanophobia, as well as England-loathing and Germany-glorifying, mark the ever-changing relations, in equal part tense and productive, between the two cultures. The tri-part lecture series will examine several of the literary aspects and history of ideas of these cultural relations, as well as study the manners of thinking and writing that arise from them.