Reconciliation, Representation and Indigeneity
'Biculturalism' in Aotearoa New Zealand
Editors: Peter Adds, Brigitte Bönisch-Brednich, Richard S. Hill, Graeme Whimp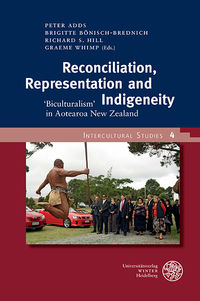 Universitätsverlag WINTER, Heidelberg
1. Edition, 2016 // 2. Edition, 2018; 222 Pages
English
ISBN: 978-3-8253-6619-3
Hardcover / also available as eBook
Aotearoa New Zealand is frequently viewed as the most advanced country in the world when it comes to reconciliation processes between the state and its colonised indigenous people. The fact that this book's contribution are written by scholars who are all engaged in such processes is alone testament to this. But despite all that has been achieved, the processes need to be critically evaluated.
This book offers an up-to-date analysis of the reconciliation processes between Māori and the Crown by leading and emerging scholars in the field. It is the first attempt to grasp the link between contemporary politics, the notion of activist research, and historical and anthropological analysis. The argument this collection is based on is that reconciliation processes are manifested in much more than government policies, legal decisions and law-making.
Both research and political efforts fully involve Indigenous scholars, legal and historical academics, communities, tribes, engaged Pākehā (settlers and immigrants of European descent) and national institutions. Among other things, such negotiation processes are tangibly represented by (new) rituals, by open and media-streamed debates, and by public institutions such as the Waitangi Tribunal.
Contributing writers: Brigitte Bönisch-Brednich, Graeme Whimp, Peter Adds, Rawinia Higgins, Carwyn Jones, Marama Muru-Lanning, RIchard S. Hill, Therese Crocker, Richard Boast, Martin Fisher, Barry Rigby, Alex Frame, Paul Meredith, Tanja Rother, Andrea Blätter, Tanja Schubert-McArthur, Robert Didham, Paul Callister