Summer Semester 2009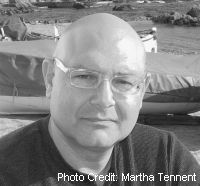 Based in New York, Lawrence Venuti is one of the world's best-known experts on translation and translation theory. With such canonical publications as The Translator's Invisibility: A History of Translation (1995) and The Scandals of Translation: Towards an Ethics of Difference (1998), his ideas have had a broad influence beyond the boundaries of the discipline. In 2000, he edited The Translation Studies Reader (reprinted 2004), which has become a standard reference work for courses on translation theory. Recent articles have appeared in journals such as the Harvard Advocate, Times Literary Supplement, Translation and Literature, Words without Borders, and Yale Journal of Criticism. He is a member of the editorial and advisory boards of various journals, including Palimpsestes; Reformation: The Journal of Tyndale Society; The Translator: Studies in Intercultural Communication; and Translation Studies. Venuti teaches at Temple University in Philadelphia.
Venuti has received numerous awards for his own richly complex translations from the Italian, French, and Catalan, including recognition from the PEN American Center (1980), the Italian state (1983), the National Endowment for the Humanities (1989), and the National Endowment for the Arts (1983, 1999).
During May and June 2009, Professor Venuti will be holding a series of seminars, workshops, and colloquia for young academics and students of the School of Applied Linguistics and Cultural Studies at Mainz University's Germersheim campus. In addition, Lawrence Venuti will be giving two public lectures in Mainz and Germersheim, to which everyone is warmly invited:
May 2009:
Genealogies of Translation Theory: Jerome
In a wide-ranging talk, Lawrence Venuti moves from Saint Jerome's thoughts on translation in his famous letter to Pammachius to the reflections of contemporary French philosopher Alain Badiou.
May 2009:
Translation, Intertextuality, Interpretation
Lawrence Venuti will discuss the intricacies and possibilities for translators and readers created in the transmission and reception of texts.
Organizers:
Center for Intercultural Studies (ZIS) (Zentrum für Interkulturelle Studien);
Institute for Intercultural Communication (Institut für Interkulturelle Kommunikation)
Johannes Gutenberg University, Mainz