Summer Semester 2000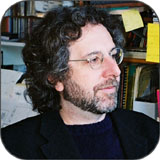 Musician, ethnomusicologist and cultural critic Alan Bern, leader of the group Brave Old World, taught a seminar on the "Production and Reception of Jewish Culture" in Germany in the summer semester of 2000.
Bern, who had previously given concerts and taught workshops together with Brave Old World for the Center for Intercultural Studies in Mainz, designed a reader for the seminar, which can be accessed at the Center's office. In addition, Campus TV broadcast a report on Bern's class.