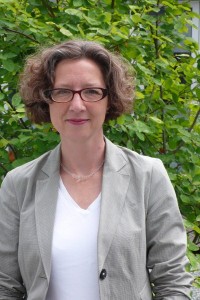 Anja Müller-Wood was appointed professor of English Literature at Johannes Gutenberg-Universität
in 2003, after having studied and worked at Philipps-Universität Marburg (Ph.D. 1995) and the
University of Trier ("Habilitation" 2002). Her main areas of research are the literature and
culture of early modern England (Jacobean drama, revenge tragedy, theatre culture in general) as
well as twentieth-century and contemporary Anglophone literatures. These specialisations are
illustrated by her monographs Angela Carter: Identity Constructed/Deconstructed (1997)
and The Theatre of Civilized Excess: New Perspectives on Jacobean Tragedy
(2007) and numerous articles in international peer-reviewed journals and book collections. She has
written about authors such as J.G. Ballard, Jim Crace, Sarah Kane, John Marston, Ian McEwan and
Thomas Nashe. Among the topics covered in her work are: representations of violence in early modern
drama and contemporary Anglophone literatures; identity, subjectivity and gender; ideology; history, historiography and memory.
An overarching interest of hers which brings together these diverse topics is the reception of
literature, especially the question of how authors, by the use of particular stylistic features, exploit
cognitive predispositions on the part of the readers. She is currently working on along-term project
revisiting reader reception theory from the perspective of the cognitive sciences and evolutionary
psychology, an interest also illustrated by several (published and forthcoming) articles on
Angela Carter, George Gissing, James Joyce, Andrea Levy and William Shakespeare. She is also
working on the nature of narrative more generally. She has co-edited a special issue of the journal
Studies in the Literary Imagination entitled "Biological Constraints on the Literary Imagination",
organised several conference panels on related topics and is a member of the editorial board of
the journal of the Association for the Study of Ethical Behavior/Evolutionary Biology (ASEBL).
These concerns are furthermore reflected in her long-standing interest in exploring the interface
between literary scholarship and linguistics. Having cooperated in the past with linguist colleagues
in research and teaching, she founded the interdisciplinary Graduate Research Group Literary
Linguistics with Prof. Anneli Sarhimaa in 2009, as well as, more recently, the DFG-funded Open AccessInternational Journal of Literary Linguistics, which she edits together with Anneli Sarhimaa and Christoph Unger. She has recently edited a special issue of the journal Language and Dialogue on the topic of "Literary Linguistics."
Anja Müller-Wood is a mentor in charge ("federführende Vertrauensdozentin") of the
Studienstiftung des Deutschen Volkes in Mainz.
Publications -  Previews