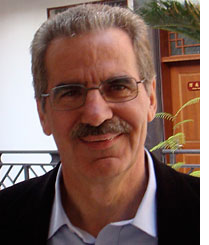 Alfred Hornung, Professor of English and American Studies, received his PhD and Habilitation from the University of Würzburg. He is a specialist in American literatures and cultures from the Nineteenth to the Twenty-First century and a leading scholar in all areas of life writing. As a long-time editor of the journal Amerikastudien / American Studies, as president of the German Association for American Studies DGfA and of MESEA Society for Multi-Ethnic Studies: Europe and the Americas, as a member of the International Committee of the American Studies Association he participated in shaping the transatlantic and transnational fields of American Studies.
As director of the Center for Intercultural Studies at Mainz he promoted the interdisciplinary cooperation of the humanities and social sciences and initiated a number of international programs, including PhD programs with Columbia Univ. and Peking Univ. He held guest-professorships at various European, American, Canadian and Chinese Universities and was a fellow at Harvard, Yale and the National Humanities Center. His teaching and research reflect these areas of activities and focus on modernism, postmodernism, inter-, transcultural and transnational American Studies as well as narratology and literary theory.
He is the author of Narrative Struktur und Textsortendifferenzierung: Die Texte des Muckraking Movement 1902-1912 (1978), Kulturkrise und ihre literarische Bewältigung: Die Funktion der autobiographischen Struktur in Amerika vom Puritanismus zur Postmoderne (1985), Lexikon Amerikanische Literatur (1991), and the editor of 20 volumes on postmodernism, interculturality and autobiography. He is an editor of the American Studies Monograph Series, the American Studies Journal and the Journal of Transnational American Studies. He is on the editorial board of several journals, including Atlantic Studies and Contemporary Foreign Literature (Nanjing). He was re-elected as a member of the Review Board of the German Research Foundation (DFG) for European and North American literatures, and he chairs the national Review Board for the Evaluation of English and American Studies in charge of the German Council of Science and Humanities (WR).
Prof. Hornung's latest publications are American Lives (2013), Ecology and Life Writing (2013) and Medialisierungsformen des (Auto-)Biografischen (2013).
Alfred Hornung is recipient of the Bode-Pearson Award for outstanding contributions to American Studies from the American Studies Association.