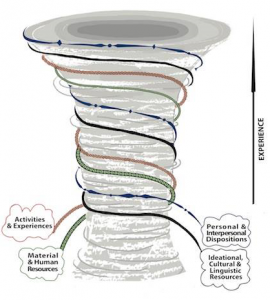 On this page you can read about the following learning methods:
---
The Natural Approach
Second Language Aquisition
SGAV Methodology
---
This webpage provides you some information about the learning approach that has tentatively been named: Scaffolded Language Ermergence (SLE), which has been under development for over ten years at the FTSK.
On the page entitled: The Natural Approach, you will find out something about the teaching approach developed in the 1980's by Steven Krashen that was just one of a number of sources of inspiration for SLE. In the section entitled: "Second Language Aquisition," you can find a list of methods that can be used to teach languages in a dynamic way.
The videos you find in the "Example" section show you how SLE is being applied in language courses at the FTSK.
The Structo-Global Audio-Visual methodology (SGAV) is another approach similar to Kiraly´s SLE in the Classroom.
Feel free to browse through the various subpages and look at the videos and references we have uploaded for you.