Research Assistant/ Post Doc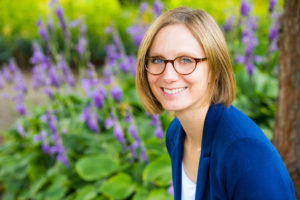 Research Interests
Media & Film Geography
Cultural Diversity/ Interculturality
Geography of Encounters
Biography
Elisabeth Sommerlad studied Geography, Communication Studies and Sociology in Mainz and graduated in 2012 with a diploma thesis on "Marrakech in feature film". From March to September 2013 she was a research assistant to the Team Cultural Geography at the Institute of Geography of JGU. From October 2013 to September 2015 she held a scholarship of the Stipendienstiftung Rheinland-Pfalz (doctoral scholarship). Since October 2015 she is working as a research assistant at the Department of Geography of JGU (Team Human Geography). In September 2019 she completed her doctorate with a dissertation on the cinematic staging of intercultural encounters with a focus on US-American feature films set in New York City.
Recent Publications
Konter, O., E. Sommerlad, V. Cummings and J. Esper (2020): Bourbon-Vanille aus Madagaskar.
Ökologische und ökonomische Einflussfaktoren auf die Ertragsvariabilität eines globalen Handelsprodukts. In: Geographische Rundschau 4: 10-15.
Sommerlad, E. (2019): Filmgeographie. In: Thielmann, T. und M. Kanderske (Hrsg.) (2019): Handbuch Mediengeographie. Baden-Baden. (Accepted)
Sommerlad, E. (2019): Der Spielfilm Tangerine als Produktion eines (inter-)kulturell doppelt imaginierten Sehnsuchtsrraum. In: Stiglegger, M. und A. Escher (Eds.): Mediale Topographien. Beiträge zur Medienkulturgeographie. Wiesbaden: 243-275.
Lukinbeal, C., L. Sharp, E. Sommerlad and A. Escher (Eds.) (2019): Media's Mapping Impulse. Stuttgart.
Sommerlad, E. (2019): 'Cinematic Faces' der Stadt Marrakech. In: Pelizaeus, L. [Hrsg.]: Images du Patrimoine Mondial. Changement et persistance des images  des sites du patrimoine mondial de l'UNESCO (du Maroc à la vallée du Danube –  XVIIIe siècle à nos jours)/ Welterbebilder. Veränderung und Persistenz der Bilder  von UNESCO-Welterbestätten  von Marokko bis in das Donautal  vom 18. Jahrhundert bis heute. Münster: 321-339.
Escher, A. & E. Sommerlad (2018): Interkulturelle Konzepte in der Geographie.. In: Gogolin, I., V. B. Georgi, M. Krüger-Potratz, D. Lengyel & U. Sandfuchs (Hrsg.): Handbuch Interkulturelle Pädagogik, Bad Heilbrunn: 150-152.
Escher, A., E. Sommerlad & M. Karner (2017): "King's Landing gibt es wirklich!" - filminduzierte Reisen in imaginierte Welten. In: Vorstand der Marburger Geographischen Gesellschaft e.V. in Verbindung mit dem Dekan des Fachbereichs Geographie der Philipps-Universität (Hrsg.): Jahrbuch 2016. Marburg/Lahn: 157-163.
Escher, A., M. Karner, C. Kerz, H. Rapp & E. Sommerlad (2016): The Atmospheric Grid of Cruising on the High Seas.  In: Erdkunde 70 (4): 313-321.
Escher, A., M. Karner, C. Kerz, H. Rapp & E. Sommerlad (2016): Movement as the Basic Atmospheric Dimension of Cruising on the High Seas. In: Rémy, N. & N. Tixier (Hrsg.): Ambiances, tomorrow. Proceedings of the 3rd International Congress on Ambiances. University of Thessaly, Volos: 213-218.
Memberships and Editorial Board
SOCuM, AG 2: Immersive Spaces (Junior Group, interim speaker)
Verband der Geographen an Deutschen Hochschulen (VGDH)
American Association of Geographers (AAG)
Managing Editor of the book series Media Geography at Mainz (MGM)
Teaching
WS 2019/20
M2 MA: "Theories of Media Geography"
M7: "Mapping Cinema & Cinematic Cartography" (with Dr. Roman Mauer, Filmwissenschaft)
M11 ED: Empirisches Arbeiten im Gelände 2 - "Kneipen, Clubs und Bars in Mainz"
SS 2019
M2 MA Project Seminar: Media Geography
M2/ M2ED: Human Geography II, Course D
WS 2018/19
M2 MA Seminar & Project: Theories of Media Geography
M7: Filmgeographie - "Chronotopoi, Utopien, Heterotopien" (with Dr. Roman Mauer, Dept. of Film Studies)
SS 2018
M2 MA Seminar: Angewandte Mediengeographie
WS 2017/18
M2 MA Seminar & Projekt: Mediengeographische Theorien
SS 2017
M2 MA Seminar: Angewandte Mediengeographie
M4 MA Seminar: Tack a Map (unter Leitung von Prof. Dr. Anton Escher)
M11/M9-ED: Regionalseminar + Exkursion "Atlantisches Kanada" (gemeinsam mit Dr. Kurt Emde)