Head of Unit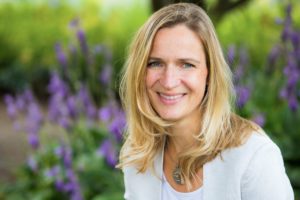 Research Interests
Development/Global south studies
Geo-ethics (global responsibility, sustainability, resilience)
Critical social and urban globalisation geography
Migration, mobility, cosmopolitanism
Identity, belongingness, nation building
Main research areas: Oman, Arab Gulf States, Singapore, Sri Lanka, Brasil
Biography
Veronika Cummings is a human geographer, specialised in development studies and critical social geography. Before her appointment as a full professor at the University of Mainz in 2017, she was a Senior Research Fellow at the Middle East Institute at the National University of Singapore from 2015-2017. Before that, she was working as a Visiting Assistant Professor at the German University of Technology in Muscat (Oman), and a postdoctoral researcher at the working group of cultural geography at RWTH Aachen University (Germany). She received her PhD at the Faculty of Philosophy at the University of Passau (Germany) in 2009 for her research on the production of social and spatial inequalities in Salvador da Bahia (Brazil). She graduated in Geography, Sociology and Botany at the University of Würzburg (Germany) in 2003, and holds a bachelor degree of the Université de Caen (Normandie, France).
Her current research covers social, cultural and political aspects of international migration, segmented migration societies, identity, belongingness, and contemporary cosmopolitanism. She is particularly interested in the way young nations like Singapore and the Arab Gulf States, especially the Sultanate of Oman, are dealing with diversity, national identity, 'globalisation at large' and mobility.
Her trans-disciplinary work can be positioned at the crossroad of development studies, social geography and globalisation studies. Her academic work is led by critical social and justice theory and praxeological thought. Empirically, she is dedicated to ethnographic methods.
Editorial and other functions

Editorial board member Geographische Rundschau (Westermann, Braunschweig)
Editorial board member "Perspektiven der Humangeographie" (Springer, Heidelberg)
Editorial board member "Media Geography Mainz" (University Mainz)
Head of Ethics Committee, Fakulty of Chemistry, Pharmaceutical Sciences and Geosciences, University Mainz
Steering Committee member for the Centre of Intercultural Studies, University of Mainz
Steering Committee member for the Gutenberg Graduate School for Humanities and Social Sciences
Deputy Equal Opportunities Officer at the Fakulty of Chemistry, Pharmaceutical Sciences and Geosciences, University Mainz
Memberships
Association of German Geography (VGDH)
German Association of University Professors and Lecturers (DHV)
Middle East Studies Association (MESA)
German Middle East Studies Association for Contemporary Research and Documentation (DAVO)
Geographic Working Group Development Theories (GAE)
Geographic Working Group Migration Research
Geographic Working Group Latin Amerika
Working Group Geography and Social Theory
Publications
--- an updated list of publications is soon available again ---