Chair of Judaic Studies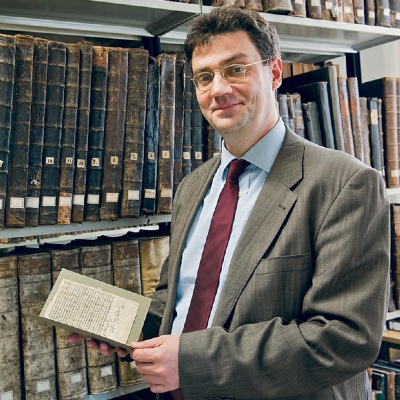 Biography
1965 Born in Duisburg
1984-94 Studies in Judaistik and Theology in Münster, München, Bonn, Köln, Jerusalem, Tübingen, Berlin
1990-93 Research Assistant at the Institutum Judaicum Delitzschianum, Münster University with H. Lichtenberger
1995-98 Researcher at the Institut for Ancient Judaism and hellenistic Religion, Tübingen University,
1999 PhD in Judaic Studies at the Free University Berlin
2004 Research assistant in the translation Project Talmud Yerushalmi (eds. M. Hengel, P. Schäfer, H.-J. Becker, G. Hüttenmeister, F. Avemarie)
28.6.2004 Full Professor for Judaic Studies in Mainz
07/2005 - 02/2007 Speaker of the Arbeitskreises Jüdische Studien at the Johannes Gutenberg-University
2007-2016 - Member of the ExCom German Association of Jewish Studies. ExCom EAJS Oxford
Fields of Research
Haskala
Jewish Prayer
Jewish Writings from the Hellenistic-roman Period
Minhagim
Rabbinic Literature (Talmud and Midrasch)
Samaritans
Hebrew and Aramaic binding fragments
Jewish Epigraphy
Research Projects
The Old Jewish Library at the Johannes Gutenberg-Universität – (financed by Ministerium für Wissenschaft, Weiterbildung, Forschung und Kultur Rheinland-Pfalz, Landesbausparkasse Rheinland-Pfalz, Freunde der Universität Mainz e. V., Landesverband der Jüdischen Gemeinden Rheinland-Pfalz, IAK Jüdische Studien an der Johannes Gutenberg-Universität)
Le-Haman, A Frankfurt Purim-Spiel. Edition, Commentary and Analysis (subsidized by the Forschungsfond at the Johannes Gutenberg-Universität Mainz and the Fritz Thyssen-Stiftung Köln) (mehr) (accomplished)
Hebrew and Aramaic Binding fragments in Trier and Mainz (Historisch-kulturwissenschaftliche Forschungszentrum Mainz – Trier)
"Genizat Germania" – Hebrew and Aramaic Binding fragments in German Archives and Libraries (subsidized by the German Research Council)
Collaboration with the Translation project "Übersetzung des Talmud Yerushalmi", ed. by Peter Schäfer, Martin Hengel, Friedrich Avemarie, Hans-Jürgen Becker, Frowald Gil Hüttenmeister.
Collaboration with DFG-Projekt: Erstellung eines wissenschaftlichen feministischen Kommentars zu der Ordnung Mo'ed ("Festzeiten") des Babylonischen Talmud
Newly discoverd Jewish tombstones on the Mainzer "Judensand" (Projektkooperation with the Salomon Ludwig-Steinheim Institut)
Memberships
Association for Jewish Studies
European Association for Jewish Studies
Société des Études Samaritaines
Studium in Israel (Shalav)
Verband der Judaisten in der Bundesrepublik Deutschland e.V.
World Union of Jewish Studies
Gesellschaft zur Erforschung der Geschichte der Juden e.V.
Publications (Selection)
The Anti-Samaritan Attitude as Reflected in Rabbinic Midrashim, in: Religions 2021,12(8),
Religions | Free Full-Text | (mdpi.com)
(Hrsg.), European Genizah. Newly Discovered Hebrew Binding Fragments in Context. European Genizah Texts and Studies 5, Leiden, Boston 2020.
Die Genisa der ehemaligen Synagoge Freudental. Eine Dokumentation, Freudentaler Blätter 11, Freudental 2019.
From Bobowa to Magenza to Jerusalem, The Biography of Avraham Shlomo Stub – between Hasidism and Zionism, in: Scripta Judaica Cracoviensia 13 (2015), pp. 67–80.
Ein Einbandfragment des halachischen Midrasch Sifra in der Staats- und Landesbibliothek Dresden, in: Judaica. Beiträge zum Verstehen des Judentums 72 (2016), pp. 129–139.
Genisa – Die materielle Kultur des deutschen Judentums im Spiegel neu entdeckter synagogaler Ablageräume, in: Nathanael Riemer (ed.), Einführungen in die materiellen Kulturen des Judentums, Jüdische Kultur 31, Wiesbaden 2016, pp. 173–202.
The Binding Fragments of Midrash Tanhuma (Buber) from the Municipal Library of Trier, in: Isaac Kalimi (ed.), Bridging between Sister Religions. Studies of Jewish and Christian Scriptures Offered in Honor of Prof. John T. Townsend, The Brill Reference Library of Judaism 51, Leiden, Boston 2016, pp. 217–238.
(collab. with Simcha Emanuel), מעין ספר המקצועות למסכת בבא מציעא - שריד חדש מגניזת אירופה, in: Ginze Qedem 13 (2017), pp. 25–38; English Summary p. 118*.
Midrash Bereshit Rabbah in Christian Bindings: A Newly Discovered Medieval Ashkenazic Manuscript Fragment from Jena, in: Klaas Spronk / Eveline Staalduine-Sulman (ed.), Hebrew Texts in Jewish, Christian and Muslim Surroundings, Studia Semitica Neerlandica 69, Leiden, Boston 2018, pp. 170–187.