Professor of Ecclesiastical History and History of Doctrine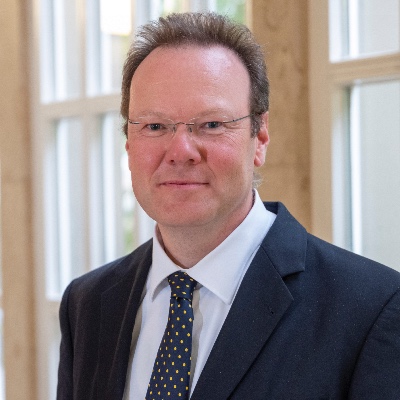 Biography
1. Biography
1971 born in Marburg
1990-1996 Studies in Theology at Marburg, St. Andrews, and Heidelberg University
1997/98 Doctoral Studies at the Faculty of Classics, Cambridge
1999/2000 Assistant to the Head of Department, University of Birmingham
2000/01 Wissenschaftlicher Mitarbeiter at the department of ecclesiastical history/patristics, University of Bonn
2001/02 Dr. theol. (thesis on Rituals related to Death and Burial in Early Christianity and its Environment)
2001-2006 Wissenschaftlicher Assistent at the department of ecclesiastical history, University of Bonn
2005/06 Habilitation (thesis on patristic anthropology) Summer term 2006: Chair (by proxy) for ecclesiastical history at the University of Bonn
2007/08 Chair (by proxy) for ecclesiastical history and history of doctrine at the University of Mainz Since summer term 2008 university professor of ecclesiastical history and history of doctrine (patristics) at the department of Protestant Theology at Johannes Gutenberg-Universität Mainz
2008-2015 national correspondent for the International Association of Patristics Studies (AIEP-IAPS)
2011-2014 Dekan (head of department)
since 2014 editor of Zeitschrift für Kirchengeschichte ZKG http://www.patristik.de/ZKG.html since 2017 deputy director of Gutenberg Nachwuchskolleg (Gutenberg Council for Young Researchers) http://www.gnk.uni-mainz.de/eng/index.php
Fields of Research
Ethics in early Christian theology
Ancient Christianity and pagan environment/philosophy (Makarios Magnes and Porphyry; ritual and law)
Memberships
International Association of Patristics Studies (IAPS)
Wissenschaftliche Gesellschaft für Theologie, dept. Church History
North American Patristic Society
Gutenberg Council for Young Researchers
Governing board of the Verein für Pfälzische Kirchengeschichte/Ecclesiastical History of the Palatinate
Governing board Denkmalbeirat Alter Dom St. Johannis
Deutscher Hochschulverband (association of German university professors and lecturers)
Patristische Arbeitsgemeinschaft
Governing board Antonie Wlosok Foundation
Publications (Selection)
Full bibliography: http://www.patristik.de/
Independent Publications
Tod und Ritual in den christlichen Gemeinden der Antike, SVigChr 65, Brill: Leiden/Boston 2002.
Die Würde des Menschen. Ein Beitrag zur Anthropologie in der Alten Kirche, SVigChr 81, Brill: Leiden/Boston 2006.
Liturgie und Ritual in der Alten Kirche, Patristic Studies 10, Peeters: Leuven 2011.
Makarios Magnes. Apokritikos. Kritische Ausgabe mit deutscher Übersetzung, Texte und Untersuchungen zur Geschichte der altchristlichen Literatur 169, de Gruyter: Berlin 2013.
Ethische Normen des frühen Christentums. Gut – Leben – Leib – Tugend (ed. with Friedrich W. Horn und Ruben Zimmermann, Kontexte und Normen neutestamentlicher Ethik 4, Mohr Siebeck: Tübingen 2013.
Metapher-Narratio-Mimesis-Doxologie. Begründungsformen frühchristlicher und antiker Ethik (ed. with Friedrich W. Horn und Ruben Zimmermann), Kontexte und Normen neutestamentlicher Ethik 6/WUNT 356, Mohr Siebeck: Tübingen 2016.
Gut, besser, am besten. Ethische und historische Reflexionen zu Leistung und Erfolg in Sport, Kirche und Gesellschaft (ed. with Michael Roth), Theologie – Kultur – Hermeneutik 20, Evangelische Verlagsanstalt: Leipzig 2016.
Tod, Themen der Theologie 12/utb 4887, Mohr Siebeck: Tübingen 2018.
Selected Articles
Zur Originalität von Augustinus, De ciuitate Dei I 15-23: Andrea Jördens/Hans Armin Gärtner/Herwig Görgemanns/Adolf Martin Ritter (Hg.), Quaerite faciem eius semper. Studien zu den geistesgeschichtlichen Beziehungen zwischen Antike und Christentum. FS Albrecht Dihle, Studien zur Kirchengeschichte 8, Kovač: Hamburg 2008, 370-382.
*"Suicide is a fine thing, very often". Überlegungen zu Suizid und christlicher Ethik im englischen Kriminalroman: Wolfram Kinzig/Ulrich Volp (Hg.), "God and Murder". Literary Representations of Religion in English Crime Fiction, Studien des Bonner Zentrums für Religion und Gesellschaft 3, Ergon: Würzburg 2008, 104-130.
*Origen's Anthropology and Christian Ritual: Róbert Somos/György Heidl (Hg.), Origeniana Nona. Origen and the Religious Practice of His Time. Papers of the 9th International Origen Congress. Pecs, Hungary, 29 August – 2 September 2005, Bibliotheca Ephemeridum Theologicarum Lovaniensium 228, Peeters: Leuven 2009, 493-502.
*Makarios Magnes: Georg Schöllgen u.a. (Hg.), Reallexikon für Antike und Christentum 23: Hiersemann: Stuttgart 2010, 1223-1234.
*That unclean spirit has assaulted you from the very beginning. John Chrysostom and Suicide: Averil Cameron/Mark Edwards (Hg.), StPatr. 47 (2010) 273-286.
*"… for the fashion of this world passeth away." The Apokritikos by Makarios Magnes – an Origenist's Defense of Christian Eschatology? in: H. Pietras/S. Kaczmarek (Hg.), Origeniana Decima. Origen as Writer. Papers of the 10th International Origen Congress. Krakow, Poland 2009, Bibliotheca Ephemeridum Theologicarum Lovaniensium 244, Peeters: Leuven 2011, 873-889.
*Der Schöpfergott und die Ambivalenzen seiner Welt. Das Bild vom Schöpfergott als ethisches Leitbild im frühen Christentum in seiner Auseinandersetzung mit der philosophischen Kritik: Heinz-Günther Nesselrath/Florian Wilk (Hg.), Gut und Böse in Mensch und Welt. Philosophische und religiöse Konzeptionen vom Alten Orient bis zum frühen Islam, Orientalische Religionen in der Antike (ORA) 10, Mohr Siebeck: Tübingen 2013, 143-159.
*"Weg von mir, Satan!" Die Figur des Petrus in der Auseinandersetzung zwischen antiken Christen und Nichtchristen: Heike Omerzu/Eckart David Schmidt (Hg.), Paulus und Petrus. Geschichte – Theologie – Rezeption, ABG 48, EVA: Leipzig 2016, 293-319.
*Sacra Privata, Family Duties, and the Dead: Insights from the Fathers and Cultural Anthropology: ARG 18 (2017) 171–185.
*Ein Kampf gegen die Hydra. Die christliche Verteidigungsstrategie des Makarios Magnes im Gegenüber zu exegetisch begründeter philosophischer Bibelkritik: Irmgard Männlein-Robert (Hg.), Die Christen als Bedrohung? Text, Kontext und Wirkung von Porphyrios' Contra Christianos. Akten der internationalen Tagung an der Universität Tübingen (28.–30. Juli 2014), Roma Aeterna. Beiträge zu Spätantike und Frühmittelalter 5, Steiner: Stuttgart 2017, 289–305.
*"Denn Leidenschaftslosigkeit besaß er ..." Das sogenannte Apathieaxiom im Kontext antiker Christentumskritik: JBTh 30, Vandenhoeck & Ruprecht: Göttingen 2018, 225–246.