24 August 2022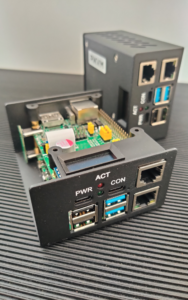 To perform research at the frontier of knowledge, it is necessary to have excellent scientists and an extensive technical infrastructure with well-trained specialists. For this reason, the Institute for Nuclear Physics has, for many years, provided training for young people in technical and mechanical professions, such as IT specialists.
This year, Jonas Bissantz and Jonas Steiner successfully completed their training as IT specialists, focusing on system integration at the Institute for Nuclear Physics. Mr. Bissantz's project topic concerned the "Integration of an IP-KVM Solution for Remote Maintenance of Servers and Workstation Computers", an inexpensive "Keyboard-Video-Mouse" hardware based on RaspberryPis. In his project, Mr. Steiner dealt with the "Re-implementation of a Self-Hosted Warehouse Management System (WMS) on Existing Hardware".
We congratulate them both on the successful completion of their training and wish them all the best for their future careers!