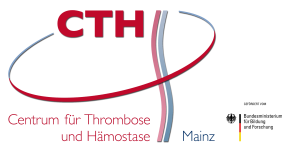 The Center for Thrombosis and Hemostasis (CTH) is one of a total of eight model centers supported by the German Federal Ministry of Education and Research (BMBF) in the context of the program "Integrated Research and Treatment Centers". The program's objectives are to build an attractive environment for high level clinical research, better career options for young scientists and a high quality of patient-oriented research.
The CTH is a clinical-scientific profile center of the University Medical Center Mainz, which is dedicated to the research and the therapy of thrombosis and hemostasis diseases and works closely with neighboring disciplines. The CTH consists of the CTH-core center (see Structure and Groups) and further central institutions:
The immediate proximity between patient care and research creates the conditions for innovations – these arise at the interfaces between therapy and research. This includes ensuring that the exchange between clinicians and scientists can become "everyday life". Therefore the CTH has an autonomous organizational structure (rules of procedure) and it is defined as a profile center under the umbrella of the University Medical Center Mainz. The bodies of the CTH are the CTH-general meeting, the CTH-management board, the managing director of the board and an external scientific advisory body.