We are pleased that another project in the funding line "Research on the internationalization of vocational education and training" has been funded since the beginning of October. The aim of the project VoCasion is the establishment of graduate schools as well as the development and implementation of a demand-oriented doctoral program in Georgia. You can find more information here.
Announcement
We are pleased to have been accepted for the international online conference AERA the "American Educational Research Association" in spring 2021 with the following contribution.

Meta-Study on Research for the Internationalization of Vocational Education and training (MP-INVET)
Zlatkin-Troitschanskaia, O., Toepper, M. & Kühling-Thees, C.
Publication
The journal
Vocations and Learning
recently published an article by Prof. Dr. Matthias Pilz and Kristina Wiemann that deals with the transfer of German dual training in China, India and Mexico. The open-access article can be found at the following link:
https://link.springer.com/article/10.1007/s12186-020-09255-z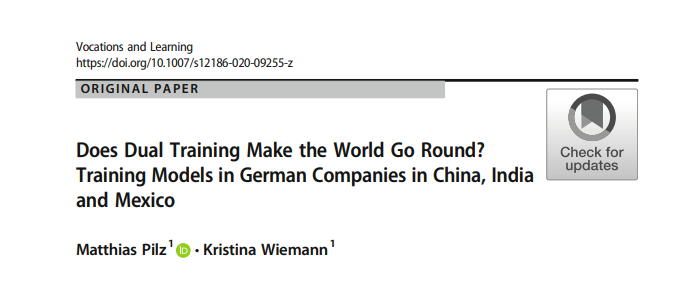 BWP 2020
The annual conference of the Vocational and Business Education Section (BWP for short) of the German Society for Educational Science (DGfE) will take place online this year from September 9-11, 2020. The title of this year's section conference is "Transformation in Economy, Technology, Work, Health, Occupation and Education - Challenges for Vocational and Business Education". The IBBF funding line as well as the metaproject (MP-INVET) will introduce themselves in two symposia and a poster session. Further information can be found at
https://www.bwp-cms.uni-osnabrueck.de/fileadmin/Gallerien/Sektionstagung2020/Veranstaltungsprogramm.pdf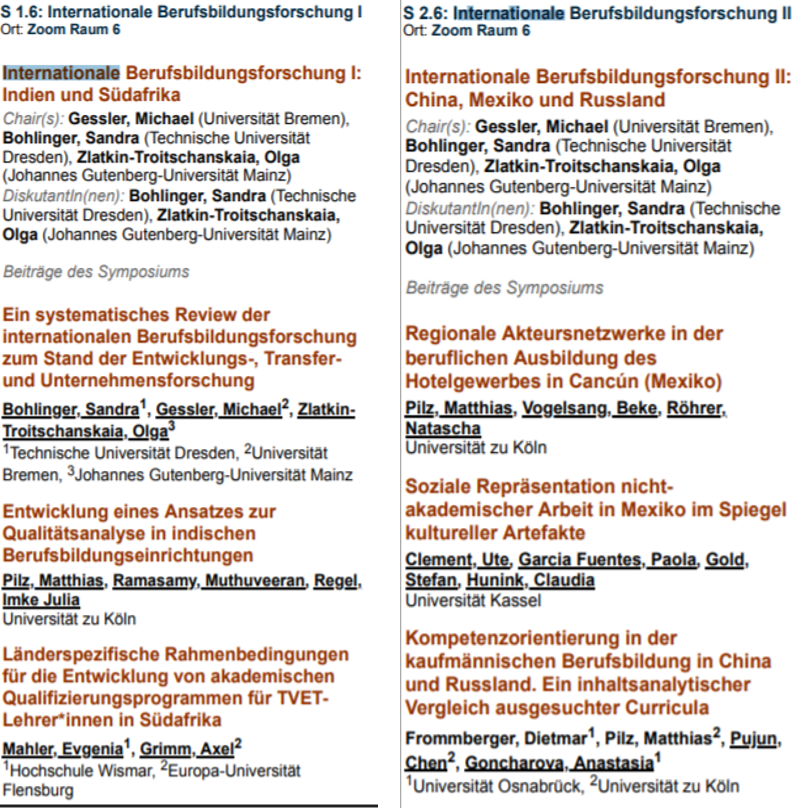 Networking activities of MP-INVET
To ensure the sustainable transfer of knowledge and expertise and to build up an inter- and transdisciplinary research network, regular virtual networking meetings of the MP-INVET project have been held since June 2020 together with the scientific support project of the BMBF funding initiative "Internationalization of Vocational Education and Training" (
https://wb-ibb.info
). The actors include the DGB, Unions4Vet, DIHK/KIBB and SCIVET. The focus of the networking discussions is on the exchange of information and the identification of interfaces.
"Young researchers for internationalization of VET" short YoriVET
The first regulars' table "YoriVET" will take place on 14.09.2020. The aim of this meeting is to connect with peers in a relaxed setting and exchange experiences, problems, solutions and opinions.
Save the date!
Young scientists event at the university of Bremen

Opening Conference of the BMBF funding initiative "Research for the Internationalization of Vocational Training"
The opening conference of the BMBF funding initiative "Research for the Internationalization of Vocational Training" took place on January 29, 2020 in Bonn. The project manager DLR organized and held the conference together with the MP-INVET metaproject on behalf of the Federal Ministry of Education and Research.For further information, please visit the
conference website.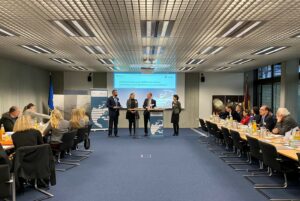 © Reiner Valier, DLR Projektträger