One of the main purposes of the MP-INVET meta-project is to establish a cross-program research network as part of the BMBF funding initiative "Research on the Internationalization of Vocational Education and Training" (IBBF). The goal of the research network is the establishment and implementation of a new (young) research community to strengthen the (inter)national cooperation in international VET research. In order to support the transfer of knowledge and experience between actors from different scientific disciplines and fields of practice, the network focuses on current developments and research results in German VET research. Hence, the national and international connectivity of the funding initiative overall will be strengthened.
MP-INVET Network

Currently, the MP-INVET network consists of 11 German research projects with international cooperation partners from different countries in Asia, Central and Latin America, Europe, and Africa.
To achieve its key objective of "Cultivating an Inter- and Transdisciplinary Research Network", MP-INVET focuses in particular on the following goals:
Internal networking between the 11 individual national projects and the advisory board
External networking with other institutions and partners
The promotion of young researchers as a part of YoriVET (Young researchers for internationalization of VET).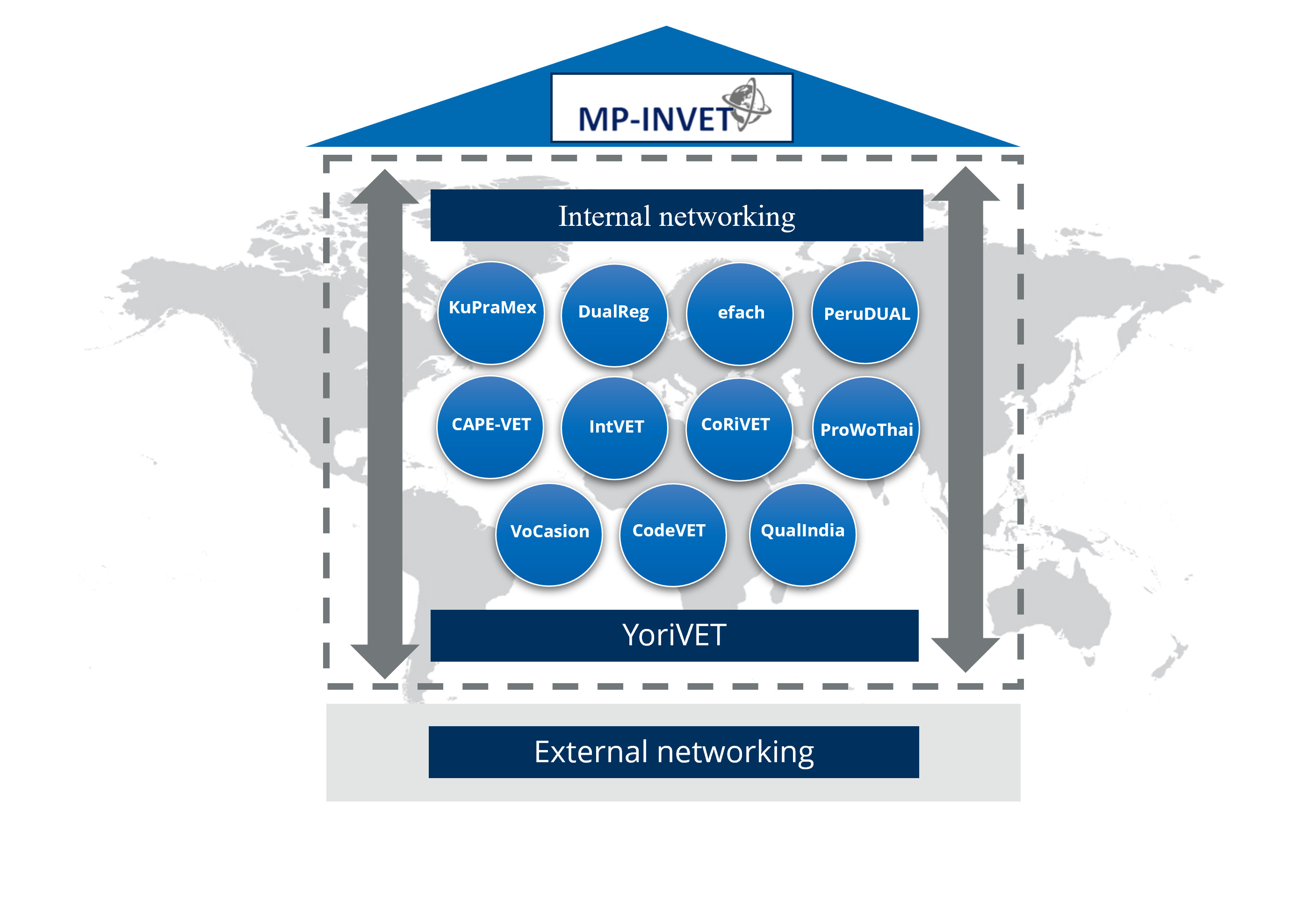 Approach
The development of the MP-INVET network comprises different phases such as the initiation phase, the implementation phase and the consistency phase. In these phases, the network-internal securing of results is an essential task to secure and analyze current activities as well as to use the resulting findings for future activities and measures.
Initiation phase: Kick-off event of the IBBF line of funding and development of initial activities such as regular collaborative and network meetings.
Implementation phase: Implementation of the intended network activities to achieve the three goals with regular documentation and reflection as well as strategic public relations and transfer activities.
Consistency phase: National and international networking strategy for the continuation and consistency of previous collaborations in MP-INVET.
The MP-INVET network is consistently working to expand the focus and reach of its activities. If you are interested in detailed information about the various activities of the MP-INVET network, please follow our newsletter or contact us at info@mp-invet.de.