Dr. phil.  |  Research Assistant  |  Post-Doc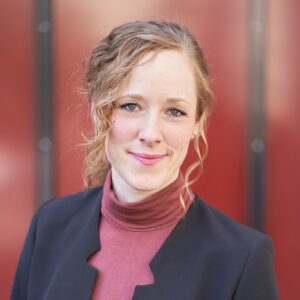 Marie Karner studied geography, economics and media science before joining the Institute of Geography at Johannes Gutenberg University Mainz in 2013, where she received her PhD in 2020. Her research focuses on (neo-)diasporic communities, migration, Arab and colonial old cities as well as on cruise and film tourism. On a theoretical level, she deals with diaspora concepts, social networks, ethnic identities, communities of practice, neo-tribes, and processes of commodification, touristification and atmospheric experience. Her regional focus is the United States, Australia, Cuba, Brazil, and Lebanon, where she was funded as a doctoral fellow at the Orient Institute Beirut in 2017. In academic teaching, she is primarily responsible for the practical training in empirical methods of Human Geography and leads field trips and research workshops in several countries including South America, the Caribbean, the United Arab Emirates, and New Zealand.
Current Publications
KARNER, M. J. (2022): Collective Narratives of the Kfarsghabi Diasporic Community: An Important Tool to Reinstate Group Solidarity, Ethnic Identity and Societal Acceptance. In: Journal of Ethnic and Cultural Studies 9 (3): 1–26. Online: https://doi.org/10.29333/ejecs/1073 
KARNER, M. and H. RAPP (2021): Kreuzfahrttourismus - Wo Träume wahr und Paradiese zerstört werden. In: Vorstand der Marburger Geographischen Gesellschaft e.V. in Verbindung mit dem Dekan des Fachbereichs Geographie der Philipps-Universität (Ed.): Jahrbuch 2021, Marburg: Selbstverlag: 203-209.
ESCHER, A., M. KARNER and H. RAPP (2021): Cinematic cruising: Reel and real spaces between imagination and experience. In: Research Outreach, 126. Online: https://doi.org/10.32907/RO-126-1870901183
ESCHER, A. and M. KARNER (2021): EXPO 2020 in Dubai - die nachhaltigste Weltausstellung aller Zeiten? In: Geographische Rundschau 73 (9): 46-51.
ESCHER, A., M. KARNER and H. RAPP (2021): Cinematic cruising: Reel imagination and real experience for pleasure on the high seas. In: Tourism and Hospitality Research 21 (3): 374-385. Online: https://doi.org/10.1177/14673584211011711
KARNER, M. J. (2021): "One Nation Under God" – Die Bedeutung und Veränderung von Ethnic Churches in der US-amerikanischen Gesellschaft. In: V. WILHELMI, E. THEVEßEN and F. PFEIL (Eds.): Geographien der Gewalt: Die USA am Wendepunkt – Geographische Perspektiven. Mainzer Kontaktstudium Geographie, Band 19. Mainz: Geographisches Institut der JGU: 72-97.
KARNER, M. J. (2021): Neo-diasporische Gemeinschaften. Blouzaniyye in Sydney, Australien. Erdkundliches Wissen 167. Stuttgart: Franz Steiner Verlag. [link to summary/content, p. 13-16].
Courses in Summer Term 2022
M11/M9-ED Regional Seminar and Excursion "Mauritius", 14 days
M6/M8ED/M13ED Research Methods in Human Geography (Practical Training), E