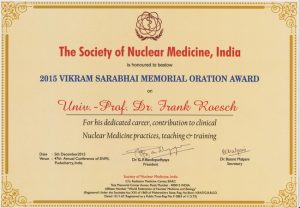 VIKRAM SARABHAI MEMORIAL ORATION AWARD
an
Herr Univ.-Prof. Dr. Frank Rösch,
Institut für Kernchemie der Johannes Gutenberg-Universität Mainz,
ist mit dem VIKRAM SARABHAI MEMORIAL ORATION AWARD 2015
ausgezeichnet worden. Dies ist der wichtigste internationale Preis, den die Gesellschaft für Nuklearmedizin Indiens jährlich vergibt.
Die Ehrung erfolgte
"for his dedicated career, contribution to clinical Nuclear Medicine practices, teaching and training".
Die Verleihung fand im Rahmen des Jahreskongresses 2015 der Gesellschaft der Nuklearmedizin, Indien, in Pondicherry am 27. Februar 2016 statt.