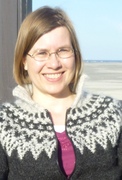 I am the head of the Jahn Library for African Literatures and a senior lecturer at the Department of Anthropology and African Studies. I studied English Literature and Linguistics, Musicology and Cultural Anthropology at the University of Freiburg as well as African Studies at the University of Massachusetts at Amherst, followed by a PhD in African Languages and Literatures at the School of Oriental and African Studies (SOAS), University of London. During my PhD studies, I did field research in Nigeria (1999-2000).
My research interests include African literatures, creative writing in African languages, Yorùbá literature and video film adaptations of Yorùbá literature, African comics and graphic novels, African bildungsromane and childhood autobiographies, African representations of war, as well as migration and displacement in African literature.
I am the managing editor of our departmental book series, Mainzer Beiträge zur Afrikaforschung.
Jahn Library for African Literatures

The Jahn Library is one of the earliest and most comprehensive research facilities for African literatures in Europe and beyond. Its collection comprises creative writing from Africa in more than eighty languages. About every four years, the Jahn Library organises an International Janheinz Jahn Symposium, focusing on a central issue in African literary studies.  ...
12 June - 23 July 2018: Sichtwechsel. Comic-Helden in und aus Afrika. Exhibition at the Schule des Sehens, JGU Mainz