The department's ethnographic collection cares for about 2,700 ethnographic objects, mainly from Central and West Africa, but also from Australia, Papua New Guinea and other parts of Oceania. They represent the areas of technology and material culture, and a range of activities including religious practices, hunting and warfare, music, art, and household. This diverse and striking collection is comprised of a wide range of objects, including weapons, basket, musical instruments, textiles and religious objects, such as the outstanding power figure from the Chiloango River collected by R. Visser in the late 19th century.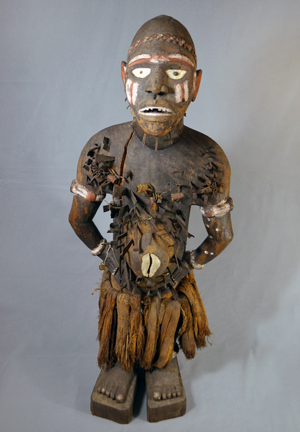 Nkisi nkondi (Power Figure), Accession Number: 2594 © Axel Brandstetter
The collection was started in 1950 by Erika Sulzmann, who, in 1948, became the first lecturer in anthropology at the newly established Institut für Völkerkunde at the JGU, and immediately began to build up an ethnographic collection. From 1951 to 1954 she spent more than two years in the Belgian Congo (now Democratic Republic of Congo) and carried out field work among the Ekonda and Bolia in the equatorial rainforest. She collected over 500 objects, which formed the original core of the department's holdings, and constantly added to the collection during her subsequent research trips to the Congo between 1956 and 1980.
The collection's items are used primarily as a teaching resource and are highly important since they are unique in Rhineland-Palatinate and rare in the German university context. Students learn "hands on" how to handle ethnographic objects in compliance with ethical requirements, how to conserve them, and how to design small exhibitions around them.