Benny Ackermann and Anja Slowinski will be glad to answer any questions you might have concerning your projects within our central WordPress service.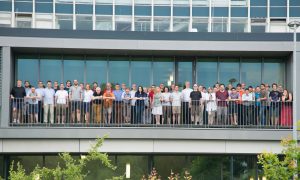 Most but not all of the ZDV-Crew. Benny Ackermann (4th from the left), Anja Slowinski (right)
Please always send your questions via mail using your account at Johannes Gutenberg University.
Please always include your site address (URL) in your mail. This will enable us to answer your questions as quickly as possible. Thank you!