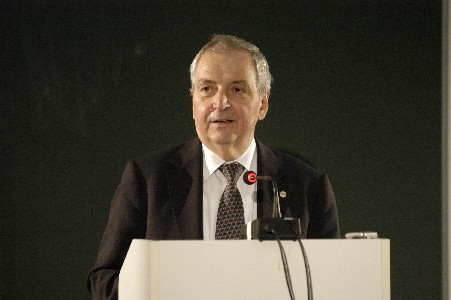 The fifth Johannes Gutenberg endowed professor, Klaus Töpfer, was born in 1938 in Waldenburg (Schlesien) and has been vice secretary-general of the United Nations, general manager of the United Nations office in Nairobi, and executive director of the United Nations environmental program since 1998. From 1998 to 2000, he was also acting executive director of the UN settlement program.
As assistant for economics at the University of Münster from 1965 to 1971, he graduated in 1968 and managed the economics department at the local spatial planning institute in 1970 and 1971. He was head of the Planning and Information Department in the Saarland state chancellery from 1971 to 1978. In 1978, he was awarded a full professorship at the University of Hanover, where he was director of the Institute for Spatial Planning and Development until 1979. Member of the CDU since 1972. He was active as State Secretary in the Ministry of Social Affairs, Health, and Environment, Rheinland-Pfalz from 1978 to 1985 and Minister for Health and the Environment, Rheinland-Pfalz from 1985 to 1987. He then went on to become Federal Minister for the Environment, Nature Conservation, and Reactor Safety until 1994. From 1994 to 1998, he was Federal Minister for Space-Order, Architecture, and Town-Planning and appointed by the Federal government to oversee the move to Berlin and the compensation of Bonn.
During the course of his career, Klaus Töpfer received numerous national and international awards and honors, including: Grand Cross of Merit, Order of the Republic of Brazil and the Kyrgyz Republic, Golden Steering Wheel International Prize, Russia, Bruno H. Schubert prize, German Environment Prize, honorary professorship from Tongji University, Shanghai, as well as honorary doctorates from several universities.