M. Sc. | PhD Scholar | Scientific Associate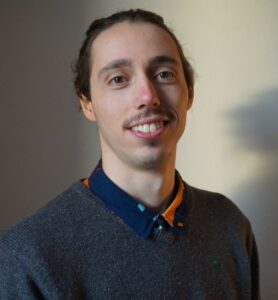 Oleg Zurmühlen studied geography in the Bachelor and Master (focus: globalisation and development) at the Rheinische Friedrich-Wilhelms-Universität Bonn. In his Bachelor's thesis, he dealt with geographical representations of the indigenous environmental movement of Standing Rock. After a semester abroad in Porto Alegre, Brazil, he completed his Master's degree with a thesis on the care relationships between people and houseplants in the context of the 'urban jungle' trend. Since April 2021, he has been a research assistant in Julia Verne's AG at the Institute of Geography in Mainz. He works on more-than-human geographies from the perspective of a feminist posthumanism and is interested in informal, more-than-human possibility spaces of socio-ecological transformation and related relational ontologies. In addition to his work at the Institute, he is preparing a dissertation project and is a member of the artist collective i gigi saggi at the intersection of music, activism and science.
More-than-human Geographies, Multispecies Studies, Human-Plant Geographies, Critical Plant Studies, More-than-human Commoning, Maritime Geographies
Verne, J., J. Poerting, L. Krieg und O. Ködding-Zurmühlen (2021): Tiere als lebendige Werkzeuge. In: Bork-Hüffer, T., H. Füller und T. Straube (Hrsg.): Handbuch digitale Geographie. Welt - Wissen - Werkzeuge. Paderborn, 330-342.
Zurmühlen, O. (2020): Whose Space is this? A Multispecies Auto-Ethnography of Viral-Human Negotiations in the Contact Zone. In: Witnessing Corona - a joint blog series by Blog Medical Anthropology / Medizinethnologie and boasblogs.
Summer term 2021:
M8 Theorien und Methoden der Humangeographie: Home-Making und Identität
Winter term 2021/22:
M5/M2Ed Übung: Wissenschaftliches Arbeiten
M2/M2Ed Übung: Wirtschaftsgeographie
Summer term 2022:
M2/M2Ed Übung: Sozialgeographie
M1-MA: Project Seminar: Counter-cartographies of Extinction