Dipl.-Geogr. | Research Assistant | Ph.D. Student
News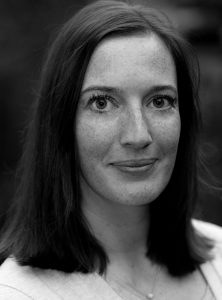 In her PhD thesis Helena Rapp deals with cultural strategies in the 20th and 21th century using the example of cultural broker and brokerage, focusing the Visual Arts. The project is supported by the TERRA Foundation for American Art with a Research Travel Grant.

Helena Rapp is an associated member of the SoCuM junior group 2 "Immersive Spaces".
current publications
BRAUN, M., H. ETTISCHER, V. HALFMANN & H. RAPP (2017): Mentoring-Programme für Doktorandinnen im MINT-Bereich. In: PETERSEN, R., M. BUDDE, P. S. BROCKE, G. DOEBERT, H. RUDACK & H. WOLF (Hrsg.): Praxishandbuch Mentoring in der Wissenschaft. Wiesbaden: 331-346.
Courses in Winter Term 2018/19
M2/M2ED Übung Wirtschaftsgeographie A (beginner's class: economic geography)
M3/M5ED Einführung in die Kartographie Übung C (Introduction to cartography)
M3/M5ED Einführung in die Kartographie Übung D (Introduction to cartography)
M11/M9-ED Regional Seminar + Excursion "Caribbean Islands"
(with Prof. Dr. Anton Escher and Dipl.-Geogr. Marie Karner)
| | |
| --- | --- |
| since 07/2016 | Research Assistant at the Institute of Geography, University Mainz |
|   | |
| since 11/2014 | Ph.D. Student at the Institute of Geography, University Mainz |
|   | |
| 01/2015-06/2016 | Project Manager and Research Assistant at the Ada-Lovelace Project, University Mainz |
|   | |
| 09/2014-12/2014 | Research Assistant at the Institute of Geography, University Mainz |
|   | |
| 05/2014 | Graduation with a Diploma in Geography at the Johannes Gutenberg University Mainz. Subject of the Master's Thesis: "Staged Alpine Romatic or Postmodern 'Alpculture'? Effects on Cultural Tourism by the Example of the Municipality Lenk at the Simmental, Switzerland." |
|   | |
| 2011-2013 | Student Assistant of Prof. Dr. Anton Escher |
|   | |
| 2006-2014 | Student of Geography and History with Minors in Economics and Political Sciences at the  Johannes Gutenberg University Mainz |
|   | |
| 2005 | High School Graduation ('Abitur') at the Geschwister-Scholl-Gymnasium, Ludwigshafen am Rhein |
|   | |
| 1985 | Born in Ludwigshafen am Rhein, Germany |
Research Interest

Cultural and Social Geography, Cultural Studies, Geography of Art/Artgeography, Tourism
Regional Focus: USA
Research Project

(Inter-)Cultural Strategies in the 20th & 21st Century - Cultural Broker (PhD Project)
Winter term 2018/19
M2/M2ED Übung Wirtschaftsgeographie A (beginner's class: economic geography)
M3/M5ED Einführung in die Kartographie Übung C (Introduction to cartography)
M3/M5ED Einführung in die Kartographie Übung D (Introduction to cartography)
M11/M9-ED Regional Seminar + Excursion "Caribbean Islands"
(with Prof. Dr. Anton Escher and Dipl.-Geogr. Marie Karner)
Summer term 2018
M2/M2ED Übung Siedlungsgeographie A (beginner's class: urban, rural and social geography)
M13/M15alt HS Atmosphären und Affekte in der Humangeographie (atmospheres and affects in human geography) under the leadership of Dr. Rainer Kazig
M13/M15alt GP Atmosphären und Affekte in der Humangeographie (atmospheres and affects in human geography) under the leadership of Dr. Rainer Kazig
Summer term 2017
M2/M2ED Übung Siedlungsgeographie C (beginner's class: urban, rural and social geography)
M2/M2ED Übung Siedlungsgeographie D (beginner's class: urban, rural and social geography)
Summer term 2016
M4/M8-ED Geländepraktikum Humangeographische Methoden A
M4/M8-ED Geländepraktikum Humangeographische Methoden B
M3-MA Seminar Geographies of Cultural Globalization Processes
(under the leadership of Prof. Dr. Anton Escher)
Winter term 2015/16
M3/M5-ED Einführung in die Kartographie Übung D (Introduction to cartography)
Summer term 2015
M3-MA Seminar Geographies of Cultural Globalization Processes
(under the leadership of Prof. Dr. Anton Escher)
Winter term 2014/15
M3 / M5-ED Einführung in die Kartographie Übung 2 (Introduction to cartography)
M3 / M5-ED Einführung in die Kartographie Übung 3 (Introduction to cartography)