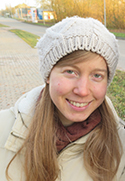 Research interest
migration, flight, policing and care, construction of cultural difference, translation
Research area
Germany
PhD project
The lived asylum process in a reception centre for asylum seekers in Germany. Interactions between the actors involved
The increasing merging of migration and security discourses, associating migrants or migranticized people with conflicts and stylizing them as threats to national security, makes research on the policing of these people evermore necessary. Interactions of refugees and asylum seekers with the most obvious of all policing actors, the police, are particularly explosive, because this is where people with unclear, often precarious residence and affiliation status and often limited knowledge of the lingua franca come across the state institution responsible for security in the nation state and conflict management. Cultural difference is often made relevant for these potentially conflict-laden interactions, fraught with problems of understanding (in the broadest sense).
Following the (social-)constructivist insight that difference is not given but socially constructed, this project empirically investigates encounters in reception facilities in order to interpret them from the perspective of asylum seekers. Based on several months of ethnographic fieldwork inspired by practice and interaction analysis, a holistic understanding of the interactions of asylum seekers and controlling or monitoring actors is sought, not only comprising the police and the asylum seekers themselves, but also security and social services in the reception centres. After all, it is not only the police who ensure safety and order there; and not only with the "friend and helper", control is inextricably intertwined with care. The intended holistic translations are understood as context-sensitive translations that go beyond language (in the narrower sense) to include body language and the spatial or infrastructural setting of communication situations particularly and ethnographic material generally.
Focusing on the perspective of asylum seekers, the research project complements research in the DFG-funded research project "Police-Translations. Multilingualism and the construction of cultural difference in everyday police work" at the Department of Anthropology and African Studies (ifeas) at the Johannes Gutenberg-University Mainz.