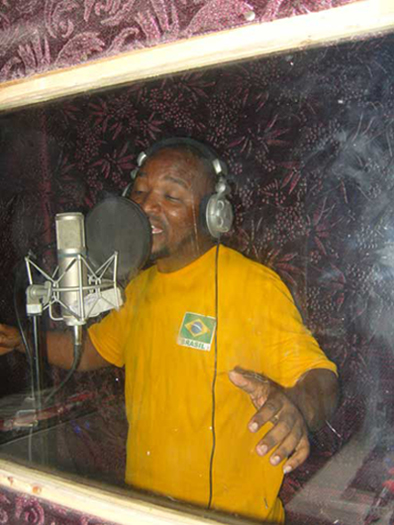 links: Saidawk a.k.a. Ghetto King bei der Aufnahme
eines Bongo Flava Songs im Tonstudio Sei Records
in Dar es Salaam (2009, ©Uta Reuster-Jahn).
Starting from the 1980s, liberalization politics have caused a profound transformation of cultural production in Tanzania. The privatization of media along with new techniques of production and distribution have facilitated the emergence of a new music scene, called Bongo Flava, as well as a flourishing market of video films in Swahili. These two areas overlap in the genre of music videos. The project sets out from the hypothesis that Swahili entertainment videos as well as Bongo Flava music can be understood as platforms where practices and discourses of different origin meet, and are synthesized anew. These forums are especially used by the young generation (in Swahili called kizazi kipya), in order to express their views on culture and society. Thereby, the youth themselves become stimulators of processes of cultural and social transformation. However, the youth have to compete with different professional groups for the domination of these platforms; for example, with musical artists, film actors and directors, producers, editors, radio promoters on the one hand, and agents of cultural politics and control on the other. All these groups and individuals have their own social, political and economic interests. The project analyzes these processes as forms of negotiation, which become also evident within the cultural products, i.e. the songs, the video films and the music clips. Focus is laid on the specific combination of local with global icons, sounds and texts, as well as on the motivation, strategies and practices of the actors involved in these processes. Moreover, the project's objective is to compare the two platforms, i.e. video films and Bongo Flava music with regard to the different media involved (i.e. radio, audio-cassettes, compact disc, live performance, video-cassettes, VCD, DVD, and TV) as well as their respective use of visual and aural modes of expression. Assuming that both forums constitute new audiovisual publics, the project shall examine the ways in which producers and recipients make use of the medial difference between texts and images, pointed to by the debates on the pictorial turn (Mitchell). Images and texts bear different potential to generate and decode meaning. The question is whether the visual media dimension is basically different from the textual and musical media dimension, not only with regard to their qualities but also with regard to the discourses they make possible. We assume that cultural conventions prohibit some subjects on the textual plane which are allowed on the visual one. From the comparison of the two platforms hypotheses on viewing and hearing as cultural practices in Tanzania will be developed.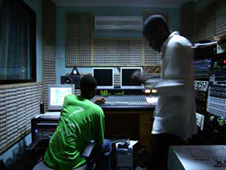 Mawingu Studio, Dar es Salaam
(2007, ©David Eschrich).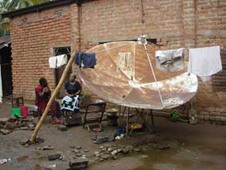 Hinterhof eines Videokinos in Mkula,
Tansania (2007, ©Claudia Böhme).
Dreharbeiten zum Film Village Pastor
(2008, ©Claudia Böhme).
Publications
Claudia Böhme
2013: 'Look With Your Own Eyes!' Visualization of Spirit Media and their Viewing Techniques in Tanzanian Video Films". In: Heike Behrend, Anja Dreschke, Martin Zillinger (Eds.): Trance Mediums and New Media. New York: Fordham University Press.
2013 Bloody Bricolages: Traces of Nollywood in Tanzanian video films. In: Matthias Krings und Onookome Okome (Eds.): Global Nollywood: The Transnational Dimensions of an African Video Film Industry. Bloomington and Indianapolis: Indiana University Press, 327-346.
2012 'Action, Cut and Roll!' The Language Question in the Tanzanian Video Film Industry. In: Jana Gohrisch and Ellen Grünkemeier (Eds.): Listening to Africa: Anglophone African Literatures and Cultures. (Anglistik & Englischunterricht 80). Heidelberg: Winter.
2011 White Elephant: Die Aushandlung von Kultur in der tansanischen Videofilmindustrie. Mainz: Johannes Gutenberg-Universität (Dissertation).
Matthias Krings
2013 Karishika with Kiswahili Flavor: A Nollywood Film Retold by a Tanzanian Video Narrator, in: Matthias Krings und Onookome Okome (Eds.): Global Nollywood. The Transnational Dimensions of an African Video Film Industry. Bloomington: Indiana University Press, 306-326
2012 Meet Lance Spearman - Your Favourite Crime-Buster, in: Anja Oed & Christine Matzke (Eds.): Life is a Thriller: Investigating African Crime Fiction. Köln: Köppe, 35-49.
2010 Mediale Basteleien - wie in Afrika fremde Bilder in eigene verwandelt werden, in: Natur & Geist. Forschungsmagazin der Johannes Gutenberg-Universität Mainz 1/2010: 57-60.
2010 A prequel to Nollywood: South African photo novels and their pan-African consumption in the late 1960s, in: Journal of African Cultural Studies 22,1: 75-89.
2010 Nollywood goes East. The localization of Nigerian video films in Tanzania, in: Mahir Saul & Ralph A. Austen (Hg.): Viewing African Cinema in the Twenty-First Century: Art Films and the Nollywood Video Revolution. Athens OH: Ohio University Press, 74-91.
Uta Reuster-Jahn
2012 'Am walking on the way kuiseti future yangu.' The use of English in Bongo Flava Music in Tanzania. In: Jana Gohrisch und Ellen Grünkemeier (eds.), Listening to Africa: Anglophone African Literatures and Cultures (Anglistik & Englischunterricht 80). Heidelberg: Winter, 145-173.
2012 "Mr. President": Musical Open Letters as Political Commentary in Africa. Africa Today 59, 1: 89-113 (together with Daniel Künzler).
2011. The Bongo Flava industry in Tanzania and artists' strategies for success. Working Papers of the Department of Anthropology and African Studies, Johannes Gutenberg University of Mainz, 127 (24 pages). URL: http://www.ifeas.uni-mainz.de/workingpapers/AP127.pdf. (together with Gabriel Hacke).
2010 Kuna kupanda na kushuka, bwana! (There is rise and there is fall, man!) Reflections on the Music Business in Bongo Fleva Song Lyrics. In: Mitchel Strumpf und Imani Sanga (eds.), Readings in Ethnomusicology. A Collection of Papers Presented at Ethnomusicology Symposium 2010. Dar es Salaam: Department of Fine and Performing Arts, University of Dar es Salaam, 117-129.
2010 Jugend, Musik und Politik in Tansania. Bongo Fleva – die Musik der neuen Generation. Habari 3 u. 4 (2010): 157-169.