edited by Thomas Bierschenk and Jean-Pierre Olivier de Sardan
published by Brill, Leiden, February 2014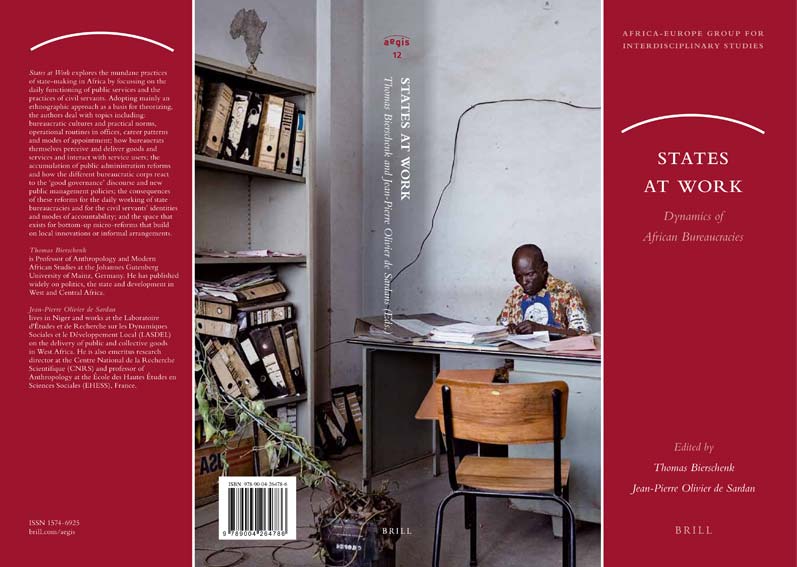 'States at Work' explores the mundane practices of state-making in Africa by focussing on the daily functioning of public services and the practices of civil servants. Adopting mainly an ethnographic approach as a basis for theorizing, the authors deal with topics including: bureaucratic cultures and practical norms, operational routines in offices, career patterns and modes of appointment; how bureaucrats themselves perceive and deliver goods and services and interact with service users; the accumulation of public administration reforms and how the different bureaucratic corps react to the 'good governance' discourse and new public management policies; the consequences of these reforms for the daily working of state bureaucracies and for the civil servants' identities and modes of accountability; and the space that exists for bottom-up micro-reforms that build on local innovations or informal arrangements.
Thomas Bierschenk is Professor of Anthropology and Modern African Studies at the Johannes Gutenberg University of Mainz, Germany. He has published widely on politics, the state and development in West and Central Africa.
Jean-Pierre Olivier de Sardan lives in Niger and works at the Laboratoire d'Etudes et de Recherche sur les Dynamiques Sociales et le Développement Local (LASDEL) on the delivery of public and collective goods in West Africa. He is also emeritus research director at the Centre National de la Recherche Scientifique (CNRS) and professor of anthropology at the École des Hautes Études en Sciences Sociales (EHESS), France.
Contributors include Gerhard Anders (Edinburgh), Isaline Bergamaschi (Bogota), Giorgio Blundo (Marseille), Hélène Charton (Bordeaux), Andreas Eckert (Berlin), Oumarou Hamani (Niamey), Azizou Chabi Imorou (Cotonou), Carola Lentz (Mainz), José-María Muñoz (Edinburgh), Michael Roll (Madison), Ole Therkildsen (Copenhagen) and Chris Willott (London).
Readership: Anthropologists and political scientists, PhD student, and all interested in politics and the state in Africa and beyond as well as in the comparative functioning of public services.
Keywords: Public service, administration, public goods, bureaucracy, reform, development, governance, ethnography, Africa; African Studies, Sociology, Anthropology, Political Science
---
Table of content
African Bureaucracies in Comparative Perspective
Studying the Dynamics of African Bureaucracies. An Introduction to States at Work (Thomas Bierschenk and Jean-Pierre Olivier de Sardan)
Ethnographies of Public Services in Africa: An Emerging Research Paradigm (Thomas Bierschenk and Jean-Pierre Olivier de Sardan)
Bureaucrats at Work
Seeing like a State Agent: The Ethnography of Reform in Senegal's Forestry Services (Giorgio Blundo)
Factionalism and Staff Success in a Nigerian University: A Departmental Case Study (Chris Willott)
Working in Neopatrimonial Settings: Public Sector Staff Perceptions in Tanzania and Uganda (Ole Therkildsen)
"We make do and keep going!" Inventive Practices and Ordered Informality in the Functioning of the District Courts in Niamey and Zinder (Niger) (Oumarou Hamani)
"I take an oath to the state, not the government": Career Trajectories and Professional Ethics of Ghanaian Public Servants (Carola Lentz)
"We must run while others walk": African Civil Servants, State Ideologies and Bureaucratic Practices in Tanzania, from the 1950s to the 1970s (Andreas Eckert)
Sedimentation, Fragmentation and Normative Double-Binds in (West) African Public Services (Thomas Bierschenk)
Bureaucracies at Work
The Politics of Reform: A Case Study of Bureaucracy at the Ministry of Basic Education in Cameroon (Hélène Charton)
Building State Capacities? The Case of the Poverty Reduction Unit in Mali (Isaline Bergamaschi)
A Breeding Ground for Revenue Reliability? Cameroonian Veterinary Agents and Tax Officials in the Face of Reform (José-María Muñoz)
Old-school Bureaucrats and Technocrats in Malawi: Civil Service Reform in Practice (Gerhard Anders)
Teachers Unions and the Selective Appropriation of Public Service Reforms in Benin (Azizou Chabi Imorou)
The State that Works: A 'Pockets of Effectiveness' Perspective on Nigeria and Beyond (Michael Roll)
The Delivery State in Africa. Interface Bureaucrats, Professional Cultures and the Bureaucratic Mode of Governance (Jean-Pierre Olivier de Sardan)