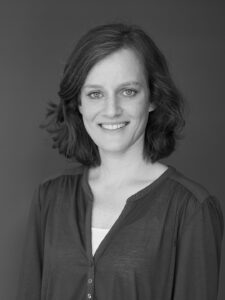 Research Interests
Migration, Anthropology of Work, Urban Anthropology, Care
Research Area
South America (Argentina)
Portrait
Franziska Reiffen was a research assistant and lecturer at the Department of Anthropology and African Studies from 2016 to 2023. She received her PhD with a thesis on the negotiation of belonging in contexts of precarious work and consumption in urban Argentina. Prior to that, she studied the BA course "German-French Studies" in Regensburg and Clermont-Ferrand and the MA course "Studies in European Culture" in Konstanz and Buenos Aires. She completed her master's degree with a thesis on care practices of Senegalese migrant women in Buenos Aires.
Completed Research Project: The Social Life of the Mall: Working and Dwelling in Urban Argentina
How do people create socially meaningful places in cities characterized by diversity and inequality, mobility and fleetingness? What happens in urban contact zones where long-term residents and newcomers, people with and without jobs, homeowners and homeless people encounter each other?
The dissertation "The Social Life of the Mall: Working and Dwelling in Urban Argentina" explores the social life of such a contact zone, the mall Paseo La Estación in central Buenos Aires. This mall aims at a low-income clientele, it is characterized by a mostly migrant workforce and by the daily transit from a nearby train station. Meanwhile, through its relative openness and indeterminacy, it also enables what Nina Glick Schiller and Ayse Caglar call "emplacement": In Paseo La Estación, people find economic and political opportunities for participation and establish social relationships, albeit under precarious conditions. The analysis shows how people negotiate their social positions and political perspectives in a place where controversial imitated brand products are consumed, where work is only partially regulated, and where social ties remain fleeting at best. In the process, social tensions become apparent in the mall, especially when classist, migrantizing, and moralizing distinctions about different ways of life are made situationally relevant.