Research interests
Nation-state, nationalism, practices of remembrance, national days, historiography, theories of culture, theories of practice, parenting, performativity
Research area
Côte d'Ivoire, Ghana
Current research project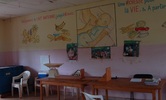 Doing being Parent – Performative Parenting in Côte d'Ivoire
The aim of the research project is to examine care-giving practices of young, educated, and socially and geographically mobile parents in Southern Côte d'Ivoire and look at their "doing being parents" (to paraphrase Sachs 1984) as identity work and as a way of enacting different forms belonging (such as to a particular generation, to a particular social class). The methodological approach chosen responds to the assumption that parenting practices are performative and competitive and therefore invite for ethnographic research. ...
Completed research project

Performing the nation and subnational differences in African national days
Subproject of the DFG 1939 Research group "Un/doing Differences. Practices of human differentiation" ...