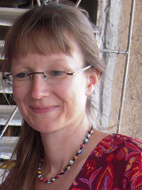 Research interests
Anthropology of Religion, Theories of Conversion, Religious Plurality in Modern Africa, Social Sciences and Missions Studies, Photography and Anthropology, Anthropology of Health, Health, Medicine & Religions, Alternative Movements.
Research areas
Burkina Faso, Benin, Ghana, Senegal, France
Current research project
Rencontres religieuses et dynamiques sociales au Burkina Faso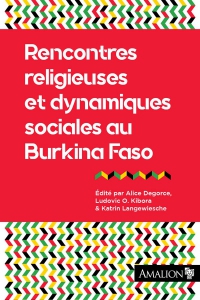 Alice Degorce, Ludovic O. Kibora & Katrin Langewiesche (Hrsg.) 2019,
Rencontres religieuses et dynamiques sociales au Burkina Faso
Edition Amalion, Dakar

Foreword by Professor Benjamin Soares, Department of Religion, University of Florida, United States
Burkina Faso is characterized by a religious landscape, where traditional, Muslim and Christian religions coexist. This cohabitation is part of a social and historical context that has long been studied by researchers. While the population safety has been deteriorating for several years in the Sahel-Saharan zone, the religious issue is increasingly coming to the forefront of the Burkinabe scene. This collective book provides readers with a synthesis of the knowledge accumulated by researchers over the past decades on the different religions and the social dynamics associated with them.
The first part describes the religious currents present in Burkina Faso.  It thus underlines the centrality of religious phenomenon in understanding social change. In the second part, interfaith interactions are questioned through cross-cutting topical themes, such as education, demography, politics, religious NGOs, the historicality of the notion of jihad or the use of Information and Communication Technologies (ICTs). The recent socio-political dynamics that have crossed Burkina Faso are undoubtedly redefining the field of religion, while remaining within a context that is historically and socially marked by diversity. This book sheds light on the current question of managing this diversity through examples of religious coexistence spread over several centuries, without masking antagonisms and conflicts that have been experienced in the region.
With contributions by Louis Audet Gosselin, Benoît Beucher, Adrien Bitibaly, Issa Cissé, Maxime Compaoré, Kathéry Couillard, Alice Degorce, Hamidou Diallo, Damien Glez, Martial Halpougdou, Ludovic Kibora, Pascal Kolesnore, Katrin Langewiesche, Frédérik Madore, Aude Nikiema, Nyaba Léon Ouédraogo, Yacouba Ouédraogo, Marc Pilon, Maud Saint-Lary, Mara Vitale
L'enquête et ses graphies en sciences sociales. Figurations iconographiques d'après société.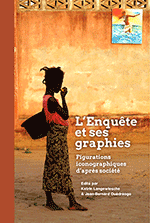 Katrin Langewiesche, Jean-Bernard Ouédraogo (eds.) 2019,
L'enquête et ses graphies en sciences sociales. Figurations iconographiques d'après société.
Edition Amalion, Dakar
Le travail d'analyse sociale pose toujours aux chercheurs la question de la transcription des données et des résultats obtenus. Les modèles canoniques privilégient l'usage de l'écriture orthographique et relèguent souvent les formes d'écritures iconographiques dans la perception sensible, l'allusif et le flou symbolique, à l'extrême opposé de la rigueur démonstrative et argumentative de l'écriture. Dans le processus de production et de diffusion des connaissances en sciences sociales, le moment de l'enquête, en particulier, est une situation de transcription idéale pour examiner le passage d'un ordre de fait à un autre et pour retracer sa fonction dans le projet scientifique. L'ouvrage interroge les modalités d'implication de l'image dans la fabrication, la transformation et la présentation des données issues de l'enquête de terrain.
Avec les contributions de Sylvaine Conord, Roger Cornu, Milton Guran, Cassis Kilian et Emil Abossolo Mbo, Sylvain Maresca, Ralf Marsault, Albert Piette, Ioulia Podogora, Mathieu Triclot.