This research project aims to gain insight into the emerging trajectories of migrants who traverse severely challenged Central American countries in an attempt to reach North America. On an empirical level, the project responds to the recent increase of African and other migrants and refugees in Central America and situates their experiences in a context of globe-spanning migration routes, 'crises' and industries. On a theoretical level, the project builds on and further elaborates critical understandings of the dynamics between migration, displacement and (im)mobilities. In particular, the project asks to what extent novel conceptualizations of the displacement/emplacement dialectic can be applied to the increasingly drawn-out and volatile migrant trajectories across the so-called Global South. To do so, its ethnographic focus lies on migrant journeys as well as on what will be referred to as "migration nodes" of smuggling, surveillance and solidarity throughout key Central American sites. Offering an ethnographic understanding of migrant trajectories through these interconnected journeys and nodes, this project counters simplistic representations of migrants and refugees en route and contributes to the theorization of ambivalent, entangled, and localized displacement dynamics.
So far, the research includes fieldwork at migrant reception shelters and border zones in Panama and Costa Rica. In both countries, we explore the volatilities of recent migration policies and practices, and the ways in which migrants negotiate these both inside and outside shelters. We simultaneously look at reception dynamics among local border / indigenous populations. Important topics currently under exploration include: the politics of care and control; migrant differentiation; and race.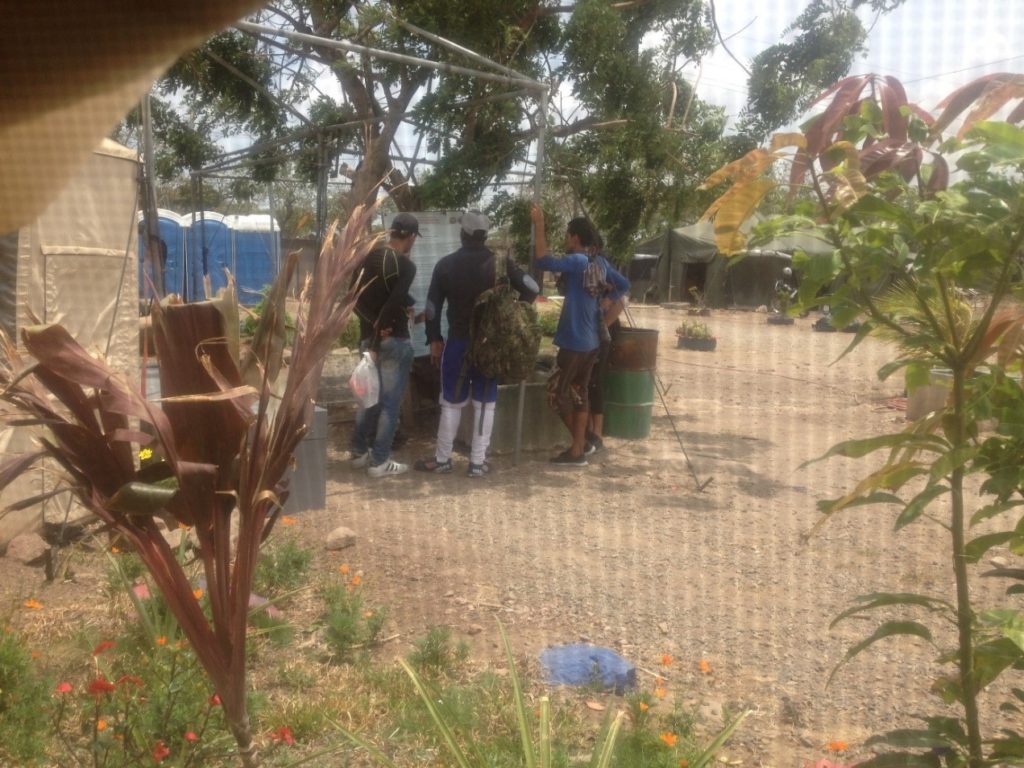 Publications
Winters, N. (2019) Haciendo-lugar en tránsito. Reflexión sobre la migración africana y trabajo de campo en Darién, Panamá. REMHU, Revista Interdisciplinar da Mobilidade Humana 27 (56).
Winters, N. & C. Mora Izaguirre (2019) Es cosa suya: Entanglements of border externalization and African transit migration in northern Costa Rica. Comparative Migration Studies 7 (27).
Winters, N. (2018) Redrawing the Central American Migrant Caravan: How Other (African) Trajectories Cross Its Path. Blog post for Border Criminologies, 6 November 2018.
Drotbohm, H. & N. Winters (2018) Transnational lives en route. African trajectories of displacement and emplacement across Central America. Working Papers of the Department of Anthropology and African Studies, Johannes Gutenberg University Mainz, 175.
Presentations
 "(E)merging categories: the production of forced mobility and immobility in Brazil and Central America." Presented at 'The End of Negotiations?' German Anthropological Association Conference September-October 2019, Konstanz.
"Places of im/mobility: infrastructures and node-like shelters in African migrant trajectories through Central America." Presented at 'Changing Climates: Struggle, Collaboration, and Justice' AAA/CASCA Meeting, November 2019, Vancouver.
"Transnational Lives en Route: African Trajectories of Displacement and Emplacement across Central America." Presented at 'Needs and Care Practices for Refugees and Migrants', 1st Annual CESSMIR Conference, September 2018, Ghent.
"Transitory emplacements. The volatility of African migrant trajectories in Costa Rica." Presented at 'Staying, Moving, Settling', 15th EASA Biennial Conference, August 2018, Stockholm.
"Experiencias actuales de migrantes y refugiados africanos en América Latina." Panel (with F. Reiffen) at 'Universality and particularism in the Americas', 56 ICA International Congress of Americanists, July 2018, Salamanca.
"Es cosa suya: African migrants' trajectories and temporary presence in La Cruz, Costa Rica." Presented at 'Latin American Studies in a Globalized World', XXXVI International Congress of the Latin American Studies Association (LASA), May 2018, Barcelona.
"Transnational lives en route: African trajectories of displacement and emplacement across Latin America." Presented at 'Transnational Lives: Economies, Bureaucracies, and Desires', Peace Research Institute Oslo (PRIO) Workshop, January 2018, Oslo.