Juniorprofessor for African Languages and Linguistics
Research interests
Sociolinguistics, Linguistic Anthropology/Anthropological Linguistics and Pragmatics:
(1) language variation and language contact phenomena in Bantu languages from East and Central Africa
(2) cross-register variation in Africa (also including linguistic creativity, urban language, youth language practices)
(3) language and conflict, verbal transgression and taboo (with a linguistic anthropological and postcolonial focus, also with regard to politeness strategies, avoidance strategies, sex, swearing and cursing)
(4) the study of language in touristic contextsLinguistic focus
Lingala, Bangala, Kikongo-Kituba, Kiswahili and Kinyarwanda-Kirundi (and other Bantu languages from East and Central Africa)
10th World Congress of African Linguistics (WOCAL10) [Leiden, NL/digital]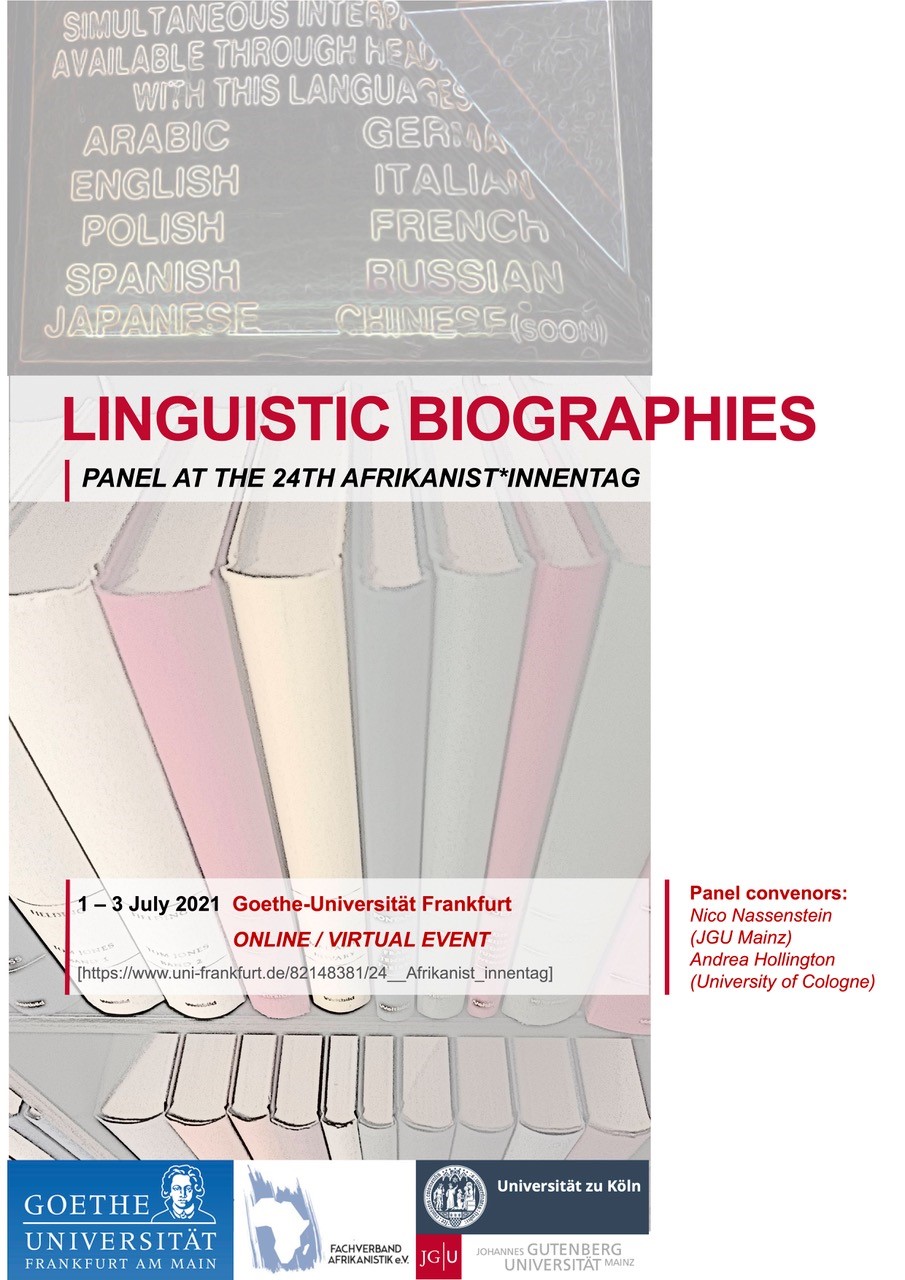 Panel: "Metaphor in Youth Language"
Panel organizers: Thabo Ditsele, Andrea Hollington, Ellen Hurst-Harosh, Fridah Kanana Erastus, Chimwemwe Kamanga, Roland Kouassi, Nico Nassenstein, Sambulo Ndlovu
7–12 June 2021
24. Afrikanist*innentag [Frankfurt a.M./digital]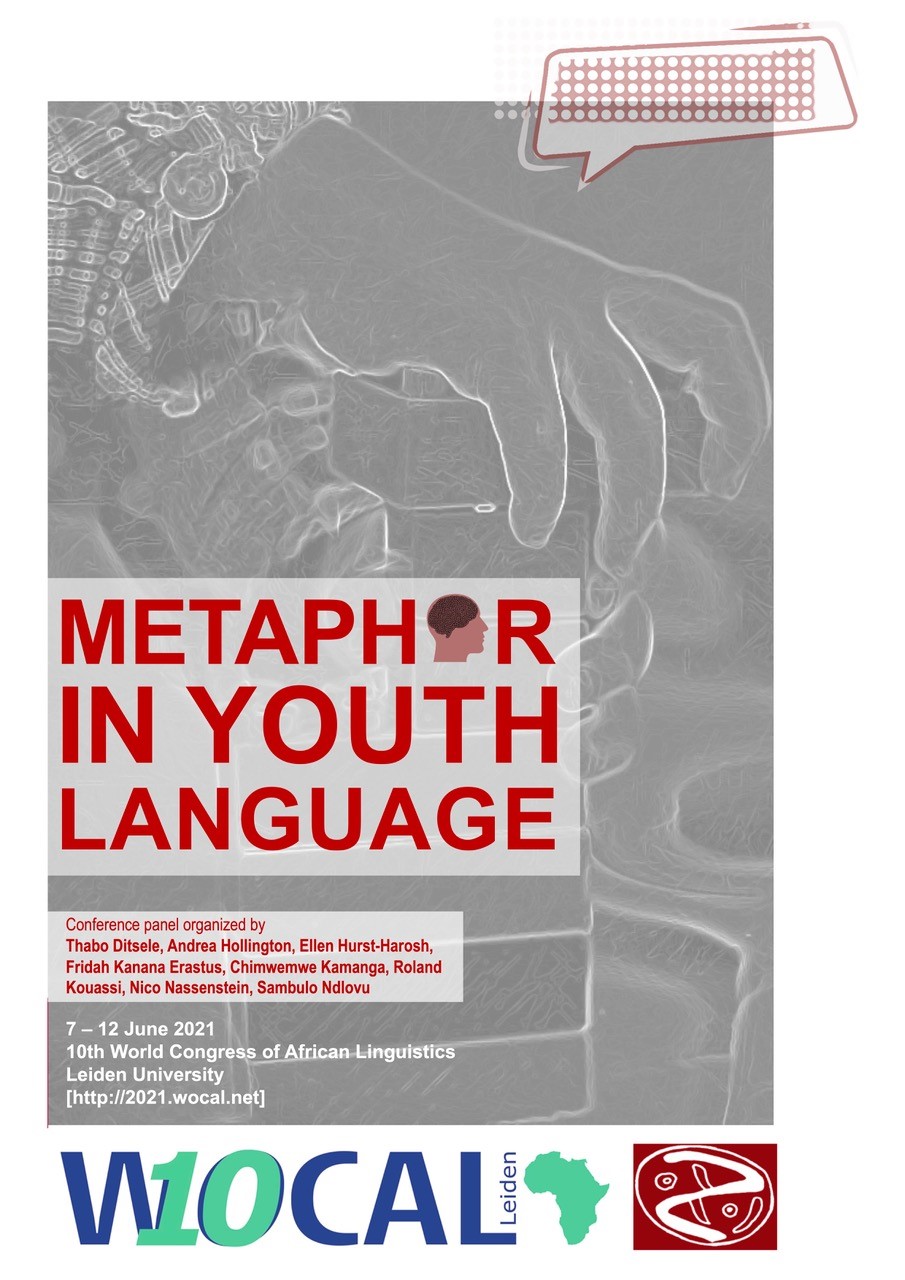 Panel: "Linguistic Biographies"
Panel organizers: Andrea Hollington & Nico Nassenstein
1–3 July 2021
ZIAF-Jahresbericht 2020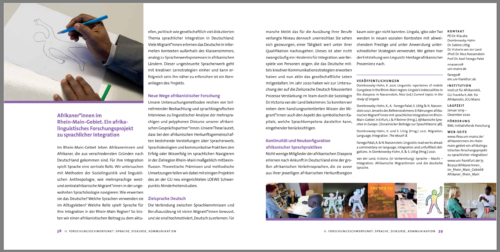 Afrikaner*innen im Rhein-Main-Gebiet. Ein afrikalinguistisches Forschungsprojekt zu sprachlicher Integration
Abralin ao vivo: Linguists online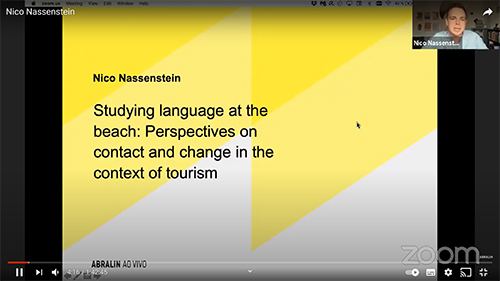 "Studying language at the beach: Perspectives on contact and change in the context of tourism"
1 May 2021 — the full talk can be found on YouTube: https://m.youtube.com/watch?v=9xIPEfR1h-c
The Other's Other
Workshop announcement 
Advances in the study of Kinyarwanda and Kirundi: Research questions, methods and directions
On 27 February 2021, an international workshop will be organized at JGU Mainz (to be held virtually) with a focus on current research topics in the study of the two Bantu languages Kinyarwanda and Kirundi (spoken in Rwanda, Burundi and adjacent areas). The workshop addresses colleagues working in all fields of linguistics (e.g. phonology, morphosyntax, sociolinguistics, anthropological linguistics etc.) and aims at bringing together scholars who share ideas and discuss recent topics that deal with the two languages Kinyarwanda and Kirundi and closely-related varieties. All interested scholars are invited to send a tentative title of their talk (either intended as 20 min talk plus 10 min discussion, or 30 min talk plus 15 min discussion) to nassenstein@uni-mainz.de by 31 January 2020. The event is open to colleagues from other disciplines and to students.
Venue: Online workshop
Date and time: Saturday, 27 February 2021 from 9 a.m. to 5 p.m.
The program will be announced in early February, the link for participation will be shared a few days before the event. Murakoze cyane!
Metasex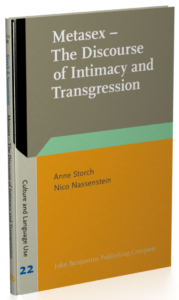 Metasex
The Discourse of Intimacy and Transgression
Series: Culture and Language Use [CLU], 22
Co-authored by: Anne Storch und Nico Nassenstein
John Benjamins  | 2020
Variation in Swahili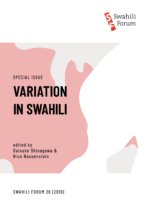 Variation in Swahili
Zeitschrift: Swahili Forum 26 (2019)
Herausgegeben von: Daisuke Shinagawa & Nico Nassenstein | 2020
Worte, Stimmungen, Räume: Eine Einladung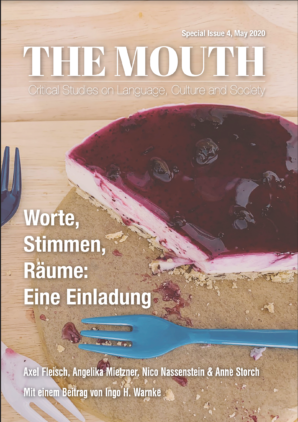 Worte, Stimmungen, Räume: Eine Einladung
Zeitschrift: The Mouth Special Issue 4, 2020
Verfasst von: Axel Fleisch, Angelika Mietzner, Nico Nassenstein & Anne Storch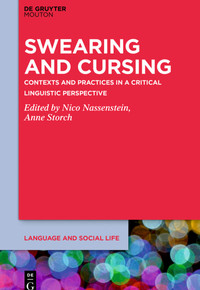 Swearing and Cursing
Contexts and Practices in a Critical Linguistic Perspective
Reihe: Language and Social Life [LSL], 22
Herausgegeben von: Nico Nassenstein und Anne Storch
32nd Swahili Colloquium, Universität Bayreuth
Panel: Sociolinguistic Variation and Change in Kiswahili
Creative practices, playful language, translocal communication
31 May – 2 June 2019, 32nd Swahili Colloquium, Universität Bayreuth
Organizers: Andrea Hollington (University of Cologne) & Nico Nassenstein  ...
International Workshop: Current Debates and Topics in the Study of Lingala

Varieties and variation, language contact and sociolinguistic change
11 May 2019, 9:00-18:00, JGU Mainz
Organizer: Nico Nassenstein
New research on African languages and migration in the Rhine-Main region

The African Studies Rhine-Main initiative of Johannes Gutenberg University Mainz JGU and Goethe University Frankfurt launches its first joint research project on "Africans in the Rhine-Main region: an African linguistic research project on linguistic integration." The project is funded by resources from the RMU Initiative Funding for Research.  ...
Third Workshop on Language Tourism

Language and Intimacy. Discourses and Narratives
Third Workshop on Language & Tourism
El Arenal, 13-14 October 2018
9th World Congress of African Linguistics (WOCAL9)

The Sociolinguistics of Globalization in Africa. Fluidity, Mobility, Agency
Panel organizers: Angelika Mietzner (Uni Köln) & Nico Nassenstein
The 9th World Congress of African Linguistics (WOCAL9), 25-28 August 2018, Rabat, Morocco  ...
7th International Conference on Bantu Languages (SINTU 7)

Variation in Swahili. Micro-typology, sociolinguistic diversification and language contact
Panel organizers: Nico Nassenstein & Daisuke Shinagawa (ILCAA, TUFS)
9–11 July 2018, SINTU 7, University of Cape Town, Cape Town, South Africa  ...
International Congress of Linguists (ICL 20)

Hostility in Language. Other Perspectives on Multilingualism
Panel organizers: Anne Storch (Uni Köln) & Nico Nassenstein
International Congrass of Linguists (ICL 20), 2–6 July 2018, Cape Town (UCT)  ...