Visiting Narrator/oral Traditionalist/Musician (funded by the Zentrum für Interkulturelle Studien)
December 2018 – January 2019
Dembo Jobarteh
Dembo Jobarteh used his stay to talk about the professional role of the jali as narrator, entertainer, diplo-mat, musician, praise-singer, etc. in the Mande societies of West Africa. He belongs to of one of the most-respected families of Mandinka-musicians and he is representative of the famous Brikama school of kora players and jali or griots from The Gambia.
Visiting Scholar (funded by the JGU International Office)
November 2018
Sikelelwa Mashiyi
Sikelelwa Mashiyi is masters student in Anthropology at the University of the Western Cape, South Africa. She visited the JGU in November to conduct research in the African Music Archives (AMA) on the under-ground hip hop of Cape Town's townships. Her stay in Mainz was made possible with a scholarship from the JGU International Office (http://www.magazin.uni-mainz.de/9750_ENG_HTML.php).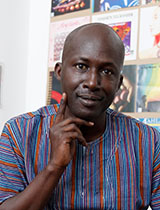 Visiting Professor (funded by the Alexander von Humboldt foundation)
September 2018 – November 2018
Ibrahima Wane
Professor for Literature, Université Cheikh Anta Diop, Dakar, Senegal
Ibrahima Wane continued his research project on Senegalese music of the 1960s to 90s at the African Mu-sic Archives. A further research stay at the African Music Archives and co-operative projects with Hauke Dorsch as part of his Alexander von Humboldt Scholarship will follow in 2019. Wane studied Modern Lan-guages at and received his Doctorate from the Cheikh Anta Diop University in Dakar, Senegal. Since 2006, he has been Maître-Assistant for oral African literatures at the Department of Modern Languages.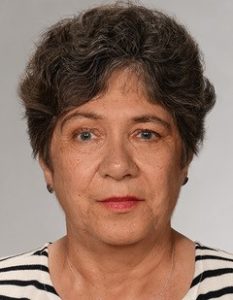 Visiting Professor (funded by the JGU Mainz and the Sulzmann Foundation Mainz)
June 2018
Heike Becker
University of the Western Cape, Cape Town, South Africa
Heike Becker is Professor of Anthropology at the University of the Western Cape (UWC) in
 South Africa. Her research and writing explores the intersection of politics, culture and aesthetics with a focus on memory cultures, popular culture, digital media and social movements, mainly in southern Africa (South Africa and Namibia). She was hosted by Anna-Maria Brandstetter and Yamara Wessling to deepen the ongoing cooperation between the UWC and the JGU. The research fellowship was made possible by the Foundation for the Promotion of Cooperation in Teaching and Research with Partner Institutions (JGU Mainz) and the Sulzmann Foundation (JGU Mainz). Heike's recent work investigates the aesthetics and politics of popular culture and digital media in movements of popular protest, such as the #FeesMustFall movements in South Africa, and protest movements led by young people in Namibia and Burkina Faso.
Visiting Professor (funded by the Zentrum für Interkulturelle Studien)
May 2018
Edison Cassadore
Professor for Literature and Cultural Studies, Tohono O'odham Community College, Arizona, USA
Edison Cassadore gave a talk and participated at a round table about the representation of Native Ameri-cans in Hollywood cinema and in Native American films. Edison Cassadore studied at and received his PhD from the University of Arizona. Currently, he works as a professor at the Faculty of Literature and Hu-manities at Tohono O'odham Community College. He prepares a research project on Representations of Native Americans in German popular culture.
Visiting Professor (funded by the Zentrum für Interkulturelle Studien, ZIS)
May 2018 – July 2018
Heath Cabot
University of Pittsburgh, USA
Heath Cabot is an assistant Professor at the Department of Anthropology, University of Pittsburgh. Her research stay at ifeas was hosted as a visiting professor by Heike Drotbohm. As a political and legal anthropologist, Heath Cabot's research examines citizenship, ethics, and rights in Europe, with a particular focus on Greece. She is the author of the book "On the Doorstep of Europe: Asylum and Citizenship in Greece" (published by UPenn Press, 2014) and is currently working on her second book on the precaritization of human and social rights in austerity-ridden Greece through the prism of community-based healthcare. Working at the interface of migration and bureaucracy studies, Heath Cabot's stay contributed towards establishing significant links between different fields of research currently being pursued at ifeas. Together with Thomas Bierschenk and Heike Drotbohm, she co-organized the international workshop "The State, Anthropology, and the Global South" (18-19 May 2018), gave a lecture on and co-hosted a student symposium on "How to combine migration studies and the anthropology of bureaucracies?".