2013
Professor Christoffel Rudolph Botha
Department of African Languages
University of Fort Hare
Alice
South Africa
Christoffel R. Botha is Professor of African Languages and Director of the School of Humanities at the University of Fort Hare in South Africa. Prof. Botha is one of the most renowned specialists in the field of the Xhosa language and literature. As a Xhosa expert, he has given language classes at various South African universities, e.g. Stellenbosch University, University of the Western Cape and University of Fort Hare. Over the course of several academic visits to the University of Massachusetts, the University of London, the University of Texas and the University of Bayreuth, he extended his research in the field of African linguistics and contributed to the dissemination of Xhosa language and literature studies.
Christoffel Rudolph Botha was DAAD Research Fellow at the department from September to December 2013. He was hosted by Anja Oed of the Jahn Library for African Literatures and worked on his research project "The Prose Writings of A.C. Jordan: A Narratological Investigation". He also shared his expertise in South African history, music and literature at seminars taught in the department.
Dr. Nidhal Chami-Benyakhou
Faculty of Letters, Languages and Arts
Department of Anglo-Saxon Languages
Section of English
Es-Sénia University, Oran
Algeria
Dr. Nidhal Chami was a visiting scholar at the department in October 2013. Her visit was funded by Es-Sénia University, Oran, Algeria. She visited the Jahn Library for African Literatures to develop a programme in African literature arising from the recent introduction of the LMD (B.A., Master, Ph.D.) system in her department, specifically in the section of English, and to acquaint herself with 21st century African writers.
Dr. Alhassan Sulemana Anamzoya
Lecturer at the Department of Sociology at the University of Ghana, Legon.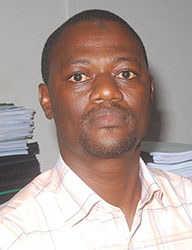 asanamzoya@yahoo.com
Associated researcher in the project "Boundary Work: Police in West Africa" directed by Prof. Dr Carola Lentz and financed by the DFG (German Research Foundation). Visiting scholar at the Department from July to August 2013. He is a lecturer at the Department of Sociology at the University of Ghana, Legon, and teaches courses on Social Theory, Theories of Social Development and the Sociology of Law.
Current research:
Private Lives of Selected Dagomba Chiefs in Northern Region of Ghana (Postdoc Research)
Police Perception of Police Internal Control Systems in Ghana