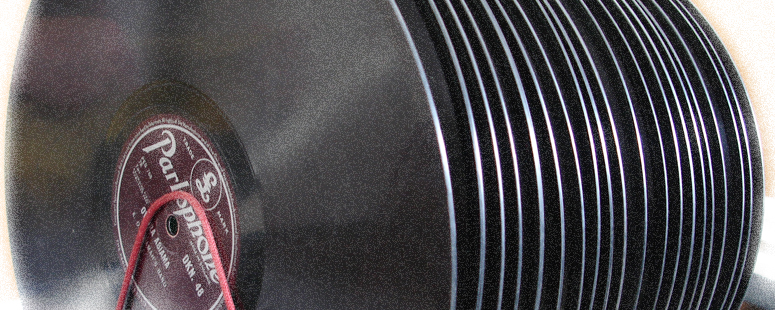 The Archive for the Music of Africa has existed since 1991 and contains a collection of modern African music on sound carriers of various formats (shellac and vinyl records, audio and video cassettes, CDs and DVDs) that is unique in Germany. The archive currently holds around 13,000 sound recordings, some of which date back to the 1940s.
The regional focus is on Ethiopia, Ghana, Cameroon, Congo, Kenya, Nigeria and Tanzania. In addition, the collection contains more or less representative holdings from almost all countries in sub-Saharan Africa, which is still being built up through regular acquisitions. Most recently, the collection was expanded in the area of Malagasy music.
Several thousand newspaper clippings are kept in the clipping collection, which is sorted by country, musical style and musician. The articles, reports, interviews, record reviews, etc. offer a rich fund of background material that can be consulted on site.
News
As a positive result of the pandemic circumstances, the AMA has filmed a virtual tour, which can be viewed here! The film was made for the annual conference of the German-Swiss country group of the International Association of Sound and Audiovisual Archives (IASA)
The PageFlow on Fairtrade Music was presented and released on December 1st, 2020 as part of a YouTube live stream. Click here for Video!
Fairtrade Music! - The new PageFlow is online!
https://afrika.pageflow.io/fairtrade-music#271326
The department's research focus "Anthropology of Music" has a new website!!!
https://anthropologyofmusic.com
A new research focus "Anthropology of Music" under the direction of Prof. Dr. Markus Verne has been established at the IfEAs. In addition to research, this focus is also active in teaching through the biannual "Anthropology of Music Master Class and Lecture Series".
Expansion of the collection through selective purchases of Malagasy music (The new acquisitions can be searched as usual in the OPAC).
Archive
For updates, infos on African music, events, etc. please check our FB page.
In June 2016, ethnomusicologist Mitchel Strumpf and music teacher and oud player Hassan Mahenge from Dhow Countries Music Academy were guests at the AMA and the Musikhochschule Mainz in a project focussing on intercultural music teaching. This project is funded by Gutenberg Lehrkolleg.
Objects of the AMA's collection are currently showcased in three museums in Mainz. More information can be found here (in German).
The online platform "Music in Africa" hosted a number of discussions at Musikmesse Frankfurt on April 8th. The AMA's director was present at a public discussion on archives. The video documentation can be found here (in German).
Presentation and soundclash at Goethe Institute Nancy with Didier Francfort and Hauke Dorsch, 25.2.2016
Concert of the Rwandan Band "The Good Ones" at Baron on Campus. Dec., 6th 2015 organized by the AMA, introduced by Dr. Anna-Maria Brandstetter.
Feature on the AMA on DeutschlandRadio Kultur as part of a series on university collections (in German)
Short interview on SWR2 about Miriam Makeba with Hauke Dorsch (in German)
AMA co-organized the conference Memory, Power and Knowledge in African Music and Beyond in the Dhow Countries Music Academy in June 2015 in Zanzibar. Organizers: Centre for World Music Hildesheim, the University of Cape Coast, Ghana and the University of Maiduguri, Nigeria. Here is the schedule
Fela Kuti's LP "J.J.D." is "Object of the Month" in May 2015 of the collection of the JGU.
AMA concert on Friday 30th January 2015, on Campus
A short broadcast on the AMA by SWR 2 Radio, 25.10.2014.
In April 2014 the AMA moved to a new building. It is now located at SB II Colonel-Kleinmann-Weg 2, EG.
Call for Papers: Conference "Memory, Power, and Knowledge in African Music and Beyond", September 03-06, 2014 at the University of Cape Coast, Ghana, Submission Deadline: January 15, 2014
Stolen Moments: Invited by the AMA, Namibian musician Eljakim "Baby" Doeseb" and scholar Aino Moongo are currently (end of September and October 2013) visiting a number of German cultural institutions, like museums, galleries, record labels and more in order to exchange ideas on exhibiting popular music. This research project, based on earlier collections of musical and oral history records collected by these two specialists for National Archives Namibia,  looks at Namibian pre-independence popular music. The research trip is funded by the German Federal Cultural Foundation's TURN programme.
Rare Sounds From Africa
A short portrait of the AMA by Nigeria's portal Naij, 30.01.2013
African Music from the Basement
The University of Mainz' own JGU magazine presents the AMA, 7.11.2012
La Representació Visual De La Música Africana
The exhibition that accompanied the symposium 'African Music in the 21st Century - An Iconic Turn' was shown in Barcelona, 13.-22.10.2012
Abbas Showcases His Videos at International Symposium
The Kenyan entertainment website Ghafla on the performance of Abbas Kubaff on the symposium "African Music in the 21st Century", 17.7.2012
African Music in the 21st Century - An Iconic Turn?
An International Symposium Celebrating the 21st Anniversary of the African Music Archives Mainz (AMA). Johannes Gutenberg University, Mainz, Germany. June 13th - 16th 2012
Convenors: Hauke Dorsch, Matthias Krings
Programme; poster
An Unexpected Home for African Music: The German City of Mainz
Article on the AMA by Andrea Löbbecke on 'monsters and critics', March, 1st, 2012
The research project "Festivalisation and Interculturality - Music Festivals in Africa and Germany" has been started. So far research focused on representations of Africa at African music festivals in German speaking countries. At a later stage we will look at music festivals in different African countries. The project is funded by the Centre for Intercultural Studies at Johannes Gutenberg University Mainz.
Short Clip on the AMA (in German language)
"Indépendance ChaCha - African Pop Music since the Independence Era" A contribution by Hauke Dorsch in Africa Spectrum 45, 3 / 2010
"Sounds of Africa" an article on the AMA by Oliver Sefrin, "Deutschland" magazine, hosted by German Missions in South Africa
"African Music Finds a Home in Germany" Interview with Hauke Dorsch
By Bethsheba Achitsa with Ogova Ondego&#160...&#160