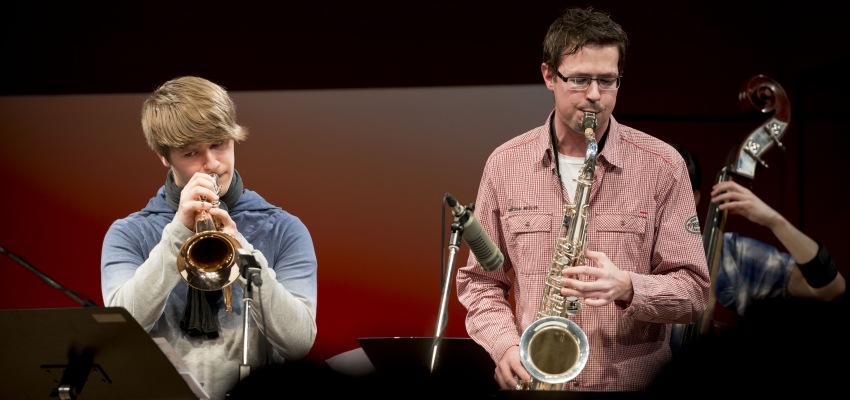 The Bachelor's program in Jazz and Popular Music at the Mainz School of Music combines a technical foundation and "trade skills" with artistic freedom, and tradition with the search for one's own voice. The first two academic years are focused on basics, and impart a thorough knowledge of technical skills in a principle and secondary instrument, basic theoretical and historical knowledge, arrangement techniques, knowledge of the jazz tradition (standards, transcriptions, etc.), as well as a familiarity with notation software and studio technology. Alongside jazz, popular music is also studied. In the third and fourth academic years, the focus shifts to the development of an artistic personality.
All instruments typical of jazz, as well as percussion and voice, may be selected as a primary instrument. A unique aspect of the program in Mainz is that students have a free choice of their secondary instrument. As a fundamental knowledge of piano is provided through the "Piano Class" course (voicings, cadences, accompaniment patterns), a singer can study contrabass as his or her secondary instrument, or a saxophonist can study singing.
Over the course of each term, approximately 15 combos form an active part of the curriculum in which students acquaint themselves with classic styles and ensemble techniques, mostly by playing the repertoire of legendary jazz and pop greats (George Gershwin, Miles Davis, Stevie Wonder, etc.). They then present their work at the highly popular end-of-semester concerts.
Every semester, each specialized group (saxophone, singing, piano etc.) chooses a topic for the "Specific Instrumental or Vocal Project" course, which they then partially present in individual project concerts, such as e.g. "The Piano Forum" (link to projects: "The Piano Forum") led by Professor Sebastian Sternal, which focuses on topics dealing with jazz piano such as "Tribute to Thelonius Monk" or "Electric Piano," and includes all jazz piano students. Music theory instruction is brought to life by the innovative internet-platform miLAN, developed by Konrad Georgi. Numerous inter-departmental projects and workshops featuring international guests also provide an additional source of inspiration for students.
The "intermediate exam" (module artistic training I) takes place at the end of the fourth semester and tests fundamental technical skills on the instrument(s) and a student's knowledge of the (jazz and pop) traditions. Following the exam, the course load lessens in order to provide space for the development of each student's musical vision. At the same time, pedagogical principles are also taught, increasing students' versatility.
At the end of the course, students are given a chance to demonstrate their artistic maturity in numerous fields (including elements such as sound, light, promotion, etc.) through a public concert of their own design.
You can find further information on the Course of Studies, Examination Regulations, and Course Major Examinations.