Director of Theoretical Philosophy (currently on leave)
Professor Ralf Busse
is serving as acting head of the professorship.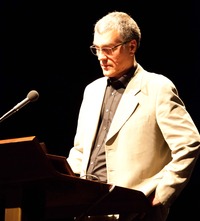 Contact
E-mail:        <lastname> @ uni-mainz.de
Voicemail:  +49 (0) 6131/39-23279
Fax:            +49 (0) 6131/39-25141
Office hours:
By e-mail appointment.
Postal address:
Philosophisches Seminar | Johannes Gutenberg-Universität Mainz | D-55099 Mainz
→
Philosophicum
, Jakob-Welder-Weg 18, 00-515
---
Research focus
Analytical philosophy of mind
Philosophy of cognitive science
Philosophical problems of neuroscience
Applied ethics (especially for neurotechnology and virtual reality; plus conceptual connections between ethics, anthropology, and philosophy of mind)
---
Public Understanding of Science
---
Open Access
Penultimate draft:

(2017c). Why is Mind Wandering Interesting for Philosophers? In Kieran C.R. Fox & Kalina Christoff [eds.] (2017), The Oxford Handbook of Spontaneous Thought: Mind-wandering, Creativity, Dreaming, and Clinical Conditions. New York: Oxford University Press.
Frith, C. & Metzinger, T. (2016d) .What's the Use of Consciousness? How the Stab of Conscience Made Us Really Conscious. In Andreas K. Engel, Karl J. Friston & Danica Kagic (eds), The Pragmatic Turn: Toward Action-Oriented Views in Cognitive Science. Cambridge, MA: MIT Press. Chapter references |

See also

: Ernst Strüngmann Forum
Madary, M. & Metzinger, T. (2016g). Real Virtuality: A Code of Ethical Conduct. Recommendations for Good Scientific Practice and the Consumers of VR-Technology. Frontiers in Robotics and AI, 3 (3). doi: 10.3389/frobt.2016.00003


See also

: Press release | New Scientist | EU DAE Blog

Penultimate draft

: Metzinger, T. (2016c). Suffering. In Kurt Almqvist & Anders Haag (eds.), The Return of Consciousness. Stockholm: Axel and Margaret Ax:son Johnson Foundation.
Metzinger, T. (2015t). M-Autonomy. Journal of Consciousness Studies, 22 (11-12), 270-302.
Metzinger, T. & Windt, J.M. (2015a). Open MIND. Frankfurt am Main: MIND Group. ISBN: 978-3-95857-102-0.
Metzinger, T. (2015b). About this collection. In 2015a.
Metzinger, T. & Windt, J.M.  (2015c). What does it mean to have an open mind? In 2015a.
Metzinger T. (2013a). The myth of cognitive agency: subpersonal thinking as a cyclically recurring loss of mental autonomy. Front. Psychol. 4:931. doi: 10.3389/fpsyg.2013.00931
Metzinger, T. (2013b). Why are dreams interesting for philosophers? The example of minimal phenomenal selfhood, plus an agenda for future research. Front. Psychol. 4:746. doi:10.3389/fpsyg.2013.00746
Metzinger, T. (2013c). Two principles for robot ethics. In E. Hilgendorf & J.-P. Günther (Hrsg.), Robotik und Gesetzgebung. Baden-Baden: Nomos. S. 263-302.
Print
News
//