Sustainable Urban Housing Projects in Zanzibar and the role of Diaspora Investments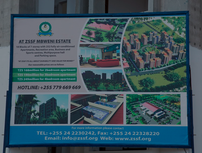 The population of Zanzibar Town has risen considerably over the last decades. While, according to the census of 2002, the population of the Zanzibar Town Metropolitan Area comprised of about 320000 inhabitants, it had reached more than 500.000 inhabitants ten years later in 2012 (National Bureau of Statistics, Tanzania 2002, 2012) and is expected to have meanwhile reached about 700.000. Even though the population rise has considerable effects on the housing situation, so far, most building activities were not linked to larger schemes or government-initiated developments.
Against this background, the Zanzibar City Centre Local Area Plan has been developed to "attain an integral, sustainable and supportive development of balanced land use that coordinates ongoing activities of land development into an integral land use plan" while also acknowledging housing issues (Department of Urban and Rural Planning, 2014, Zanzibar City Center Local Area Plan). For the larger area of Zanzibar Town, however, most building activities are still private, aiming at individual family homes. Therefore, the challenge remains how to meet the housing demands of a rising population in the Zanzibar Town Metropolitan Area, while adhering to the idea of a sustainable urban development.
Over the last years, three major urban housing developments have been started. The first one is Fumba Uptown Living financed by the Bakhresa Group. It is designed as an "innovative residential development project" which shall comprise of around 500 villas and amenities such as commercial buildings, a school, sports center and hospital, allowing its residents to follow "a luxorious lifestyle" (Bakhresa.com).
Another housing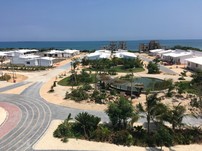 development is Fumba Town, financed by CPS and sustainably masterplanned with a mix of apartments, 2-bedroom houses and larger villas, also including a commercial centre and other community facilities. Finally, ZSSF has started to build the AT ZSSF Mbweni Estate consisting of 18 seven-story buildings with 2-4-bedroom apartments and community facilities.
What all these different projects have in common is that they, so far, seem to attract private investments from members of the Zanzibari diaspora. In Fumba Town, for example, 99 years lease is possible for investors from any nationality. Many of them, however, do not intend to live in their newly acquired properties but offer them for rent. Here, questions arise on the potential residents of these new urban housing developments and its implications for the urban housing market more generally.
Therefore, the aim of this research is threefold:
First, the goal is to find out more about the housing needs of the local population, with a main focus on renting.
Second, to understand the profile of the buyers and investors in these three projects.
Third, this research will provide new insights on the motivations of the buyers of these new properties.
Overall, this research strives to contribute to a better understanding of the potential and challenges of current large-scale urban housing developments for both investors as well as its future residents. Moreover, it will assess potential best practices and derive lessons to be learned from these projects which may serve as possible guidelines for further government-led urban housing developments in Zanzibar. Finally, the results from Zanzibar will serve as an important, empirically grounded contribution to wider discourses on sustainable urban developments and new satellite cities in East Africa and beyond (van Leynseele & Bontje 2019, van Noorloos & Kloosterboer 2018, Grant 2015, Bhan 2013)
Principal Investigators:
Julia Verne, Makame Omar Makame