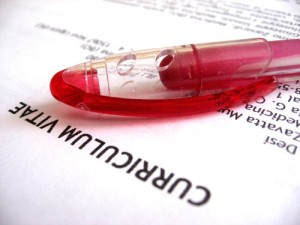 In seeking for a new job, if there is something we should be good at in physics, is in writing our CV. Nevertheless I have never been so disappointed as by reading the CVs of applicants for position in science and academia.
The more you move on in your career the easiest is to fill up pages with informations about what you've done, where you've been employed etc. The real challenge we are faced when we are in an early stage, when we actually think, we don't have much to say about ourselves ( and this is dramatically true in the case of women).
If you google the best tips for a successful CV you might find zillions of entries, which, in most cases, don't suit your needs
- there is actually something worth beginning with on the Nature's Blog under:
http://blogs.nature.com/naturejobs/2011/09/27/38-tips-on-writing-an-academic-cv
and on Science as well:
http://sciencecareers.sciencemag.org/career_magazine/previous_issues/articles/2006_10_27/nodoi.10341484552738357724 -
Over the last couple of years I have been often asked for help on how to improve one's CV.I keep on giving 3 suggestions and the final result looks like in the famous story of ugly ducking becoming a beautiful swan.
So let me share with you, these 3 tips that out of an example. Weiterlesen "CV how to? No thanks let's write it!"