The mixture of naturally occurring uranium isotopes contains only very few U-236 atoms; the isotopic abundance in comparison to U-238 is lower than 1E-12. U-236 is produced predominantly by neutron capture of U-235 in nuclear reactors. Therefore, material from nuclear facilities can show a significantly increased amount of U-236, higher by many orders of magnitude than the natural value.
Formation of Uranium-236 in Nuclear Reactors - click for bigger version
Thus, sensitive determination of U-236 can distinguish a possible anthropogenic uranium contamination from natural uranium.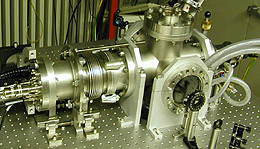 Vacuum Chamber for Detection of Uranium-236
- click for big version -
Refined studies about nuclear fuel migration in the environment could become possible by direct determination of U-236. Particularly, the dynamics of the formation of soluble U(VI) species (which are accessible to living organisms) out of anthropogenic uranium sources might be studied. Primarily interesting samples can be taken from places where larger amounts of nuclear fuel in the form of inert U(IV) particles were released into the environment, e.g. near to the Chernobyl nuclear power plant.
The method of High Resolution Resonance Ionization Mass Spectrometry (HR-RIMS) has been developed for the selective determination of long-lived radioisotopes. This method is the only one besides the experimentally elaborate Accelerator Mass Spectrometry that can fulfill the outstanding requirements concerning detection sensitivity, isobar suppression and isotopic selectivity needed for ultra trace determination of U-236.
During the project period, HR-RIMS will be adapted and tested for the determination of U-236. This mainly includes detailed laser spectroscopic studies on uranium and investigations on an efficient atomization procedure for analytical samples. Furthermore, the method has to be specified concerning isotopic selectivity, detection efficiency, precision and reproducibility and real analytical samples will be measured.
Analysis of Three-Dimensional Laser Spectra
- click for very big version (578 KB) -