Research Interests
Media anthropology and audio-visual anthropology, migration, mobility and transnationalism, kinship, gender and generations, digital and media ethnography
Research Area
Senegal, Germany, Hungary, Malta
Portrait
Simone Pfeifer is a postdoctoral researcher at the junior research group "Jihadism on the Internet" at the Johannes Gutenberg University Mainz. She studied Visual Anthropology, Social and Cultural Anthropology, Psychology and History in Heidelberg, Cologne and Manchester. Before coming to Mainz, she has been part of the Research Training Group 'Locating Media' at the University of Siegen and the DFG research project 'Media-related configurations of translocal social spaces by West-African migrants in Europe' at the University of Cologne. Her doctoral research focused on media practices and transnational social relationships of Senegalese in Berlin and Dakar with a focus on visual and digital media practices. In her new research, she looks at the circulation and appropriation of Islamic and Islamist videos and images in social media, with a special focus on gender-specific and affective dimensions of these processes.
Coming Soon (in Press)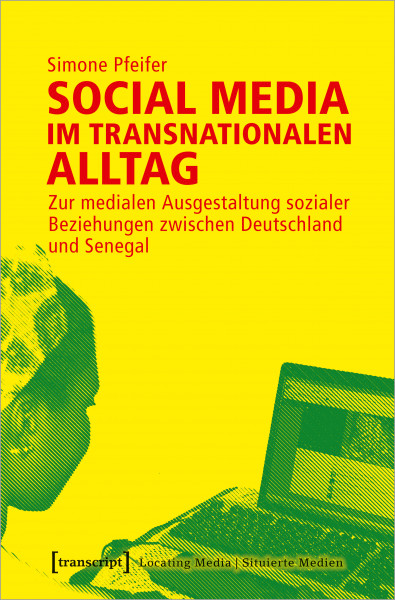 Simone Pfeifer
Social Media im transnationalen Alltag
Zur medialen Ausgestaltung sozialer Beziehungen zwischen Deutschland und Senegal
International Workshop: Dark Ethnography, 11 - 12 July 2019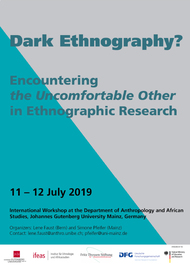 Dark Ethnography
Encountering 'the Uncomfortable Other' in Ethnographic Research
International Workshop at the Department of Anthropology and African Studies of the JGU Mainz, 11 – 12 July 2019  ...
Medienpraktiken: Situieren, erforschen, reflektieren

Mark Dang-Anh, Simone Pfeifer, Clemens Reisner und Lisa Villioth Hrsg. Medienpraktiken: situieren, erforschen, reflektieren. In: Navigationen – Zeitschrift für Medien- und Kulturwissenschaften 17 1.  ...
Research Project