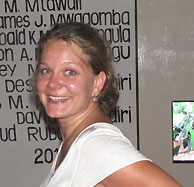 Research interests
political anthropology, museum studies, memory work, post-colonialism, development and culture, cultural heritage, nationalism
Research areas
Malawi, South Sudan, Uganda, Zambia
Cooperation with University of Juba

Current activity: Project Coordinator for International Fieldschool "Water Governance and Interdisciplinary Research Techniques in Post-Conflict Areas" ...
Living Legends - Malawians tell their stories
'Living Legends' is a memory project and an on-going project to film-tape testimonies of eyewitnesses on the last decades of political change in Malawi. In 2014, it became part of the permanent exhibition of the Cultural Museum Centre Karonga CMCK in northern Malawi, where visitors can watch selected video sequences of the interviews. ...
Drinking Deeply from Museum Work – Milk in Switzerland and Uganda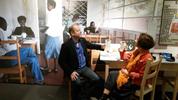 For around three decades, museum experts, curators and researchers have increasingly started to develop innovative strategies to challenge the violent historical weight and ideologies of colonial legacies borne by/inherent to collections. © Völkerkundemuseum Universität Zürich, Photo Thomas Laely ...