Relevance
The transfer of the professional knowledge acquired during teacher education into effective performance in practical teaching situations is often insufficient and requires effective training. In the context of the increasing interlinking of the commercial and technical professional domains as well as the establishment of new (hybrid) profes-sions such as e-commerce, (prospective) teachers need more integrative and action-oriented competencies to meet the new demands. However, validated training tools for the effective development of action-oriented skills in the first and second phase of teacher education are still limited.
Project Structure
The TWIND project develops and establishes digital teaching-and-learning tools to support the effective training of (prospective) teachers in vocational education and training. This collaborative project of the JGU Mainz, the Technical University of Darmstadt, the University of Kassel and the University of Education Schwäbisch Gmünd was initiated as part of the Quality Initiative for Teacher Training, which is jointly funded by the German Federal Ministry of Education and Research and the Federal Ministry of Education Rhineland-Palatinate. The project runs from 1st March 2020 until 31st December 2023.
Project Objective
The aim of the TWIND project is to integrate technical, business and economic as well as general educational didactics into digital teaching-learning tools more syste-matically to address the current developments of digitization and hybridization in the professional sector. Consequently, the project focuses on the didactically integrative development, implementation, evaluation, optimization and transfer of innovative digi-tal media tools for the effective promotion of action-oriented competencies among (prospective) teachers. These media tools will be used for the effective training of pre- and in-service teachers in the vocational school sector of commercial-technical and commercial-management subjects. Based on the constructive alignment ap-proach and established competency models, innovative training tools (e.g. video-based teaching materials and corresponding examination tasks) are developed, which are provided in a flexible and adaptive way to promote and test the action-related competencies of (prospective) teachers.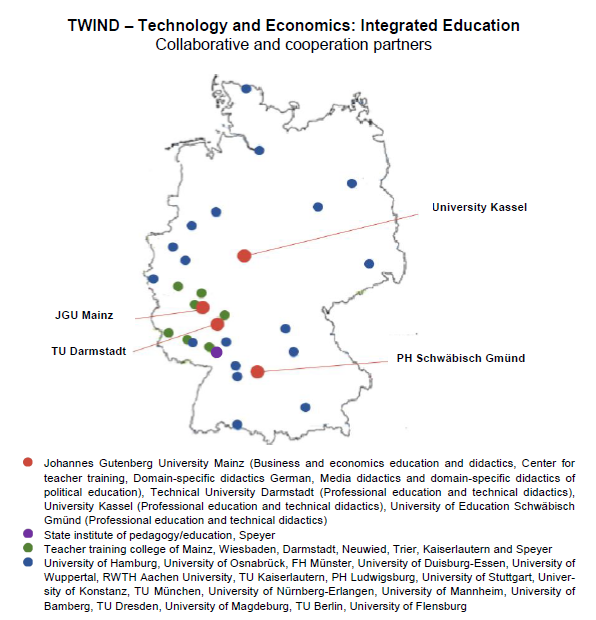 Project Design: TWIND-WiPaed
The sub-project at the department for business and economics education at the JGU Mainz is focused in particular on (1) the development of digital media tools for the commercial vocational sector to promote the pedagogical content skills and media-didactic skills of prospective teachers (with a particular focus on new hybrid professions such as e-commerce) as well as (2) the German-wide evaluation of the use of the newly implemented media tools. These tools will be tested in a controlled, quasi-experimental comparison groups design with pre-post measurements at 10 institutions of the university (1st) and practical (2nd) teacher training phase nationwide (n=approx. 400) and further optimized for practical application. On this basis, recommendations for the effective competency-oriented teacher training are to be derived.
Project team TWIND-WiPaed
Contact TWIND-WiPaed
E-Mail: twind-wipaed@uni-mainz.de
Project investigators TWIND-WiPaed JGU

Chair of Business and Economics Education
Johannes-Gutenberg University Mainz,
FB 03: Faculty of Law, Management and Economics
E-Mail: brueckner@uni-mainz.de


Jasmin Schlax, M.Sc. (Psych.)
Chair of Business and Economics Education
Johannes-Gutenberg University Mainz,
FB 03: Faculty of Law, Management and Economics
E-Mail: jasmin.schlax@uni-mainz.de
Collaborative Partners
| | |
| --- | --- |
| Johannes Gutenberg University Mainz | |
| Center for teacher training | Prof. Dr. Markus Höffer-Mehlmer |
| Domain-specific didactics German | Prof. Dr. Anja Müller |
| Media didactics and domain-specific didactics of political education | Prof. Dr. Kerstin Pohl |
| University Kassel | |
| Professional education and technical didactics | Prof. Dr. Alexandra Bach |
| Technical University Darmstadt | |
| Professional education and technical didactics | Prof. Dr. Ralf Tenberg |
| University of Education Schwäbisch Gmünd | |
| Professional education and technical didactics | Prof. Dr. Uwe Faßhauer, Prof. Dr. Lars Windelband |
Cooperation partners
University of Wuppertal
University of Flensburg
Friedrich-Alexander University of Erlangen-Nürnberg
University of Bamberg
Otto von Guericke University Magdeburg
RWTH Aachen University
Technical University of Berlin
Technical University of Dresden
Technical University of Kaiserlautern
Technical University of Munich
University of Duisburg-Essen
University of Hamburg
University of Konstanz
University of Mannheim
University of Stuttgart
FH Münster University
University of Osnabrück
University of Education Ludwigsburg
Teacher training college of Darmstadt
Teacher training college of Kaiserlautern
Teacher training college of Mainz
Teacher training college of Neuwied
Teacher training college of Speyer
Teacher training college of Trier
Teacher training college of Wiesbaden
State institute of pedagogy/education, Speyer
For more details
http://www.kmk.org/fileadmin/Dateien/pdf/Bildung/BeruflicheBildung/rlp/Kaufmann_im_E-Commerce_17-11-24-E.pdf
https://www.kmk.org/fileadmin/Dateien/veroeffentlichungen_beschluesse/2018/Strategie_Bildung_in_der_digitalen_Welt_idF._vom_07.12.2017.pdf
Visit us on Research Gate: https://www.researchgate.net/project/Technology-and-Business-Integrated-Education-Integrating-business-and-technical-didactics-into-digital-teaching-learning-tools-for-teacher-education-and-training-Business-and-Economics-Education-JG