Research Assistant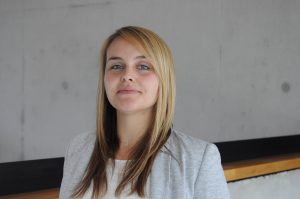 11/2013 - present: Research assistant at the Department for Communication, University of Mainz, Germany
10/2013:  Magister Artium (M.A) in Communication Studies, Political Science and Economics; Master's thesis "Grenzkosten, Eurobonds und Schattenbanken – aber was verstehen die Leser davon? Eine qualitative Studie zur Identifikation von textimmanenten und rezipientenseitigen Einflussfaktoren auf die Verständlichkeit von Wirtschaftsnachrichten" ("Marginal costs, Eurobonds and Shadow banks – But What Do Readers Really Understand? A Qualitative Study on the Identification of Text Immanent and Recipient-sided Influence Factors for the Comprehensibility of Business News")
08/2011-01/2012: Internship with the client service team of the market and opinion research agency Millward Brown Lansdowne, Dublin, Ireland
06/2009-10/2013: Graduate assistant at the Department for Communication, University of Mainz (conceptual and organizational work in national and international content analysis projects on the financial and euro crisis)
10/2007-10/2013: Studies of Communication Science, Political Science and Economics at the University of Mainz, Germany
More internships and freelance work with the daily newspaper Main-Echo, the PR agency Hill&Knowlton and the journal HORIZONT (Resort Specials).
Research Focus
Media effects on the decision making of societal elites
Information processing of political and economic news content and resulting effects on citizens' political and economic knowledge, attitudes, and behavior
Patterns and structure of media coverage on political and economic issues
Effects of computer-mediated-communication on societal solidarity (e.g. helping in cyberbullying, effects of hateful user comments)
Qualitative and quantitative methods (and the combination of both) for studying societal elites' perceptions, considerations and actions in the media society (observations, survey, interviews, etc.)
Awards
2015: "Science Award" of the German Reading Foundation (Stiftung Lesen) for the Master's thesis
2014: Naomi C. Turner-Preis of the World Association for Public Opinion Research (WAPOR) for the best conference paper authored by a student at the annual conference of the WAPOR 2014 in Nice (with Mathias Weber)
2013: Award of the Department of Communication at the University Mainz for the "Master thesis of the year 2013"
Activities in the academic community

Reviewer for national and international conferences and journals (Computers in Human Behavior, New Media & Society, ICA annual conferences, annual conferences of the Political Communication Section of the German Communication Sssociation)
Member of the European Communication Research and Education Association (ECREA), German Communication Association (DGPuK), International Communication Association (ICA), International Association for Media and Communication Research (IAMCR)
Functions in academic self-government (e.g., student represenative in the Gutenberg Council for Young Researchs and the department's board comittee, member of appointment committees; co-organizer of a section conference)
Contact

Address: Department of Communication, Jakob-Welder-Weg 12, 55099 Mainz, Germany
Room: Georg Forster building 03.309
Phone: +496131/39-29371
E-Mail: christina.koehler@uni-mainz.de